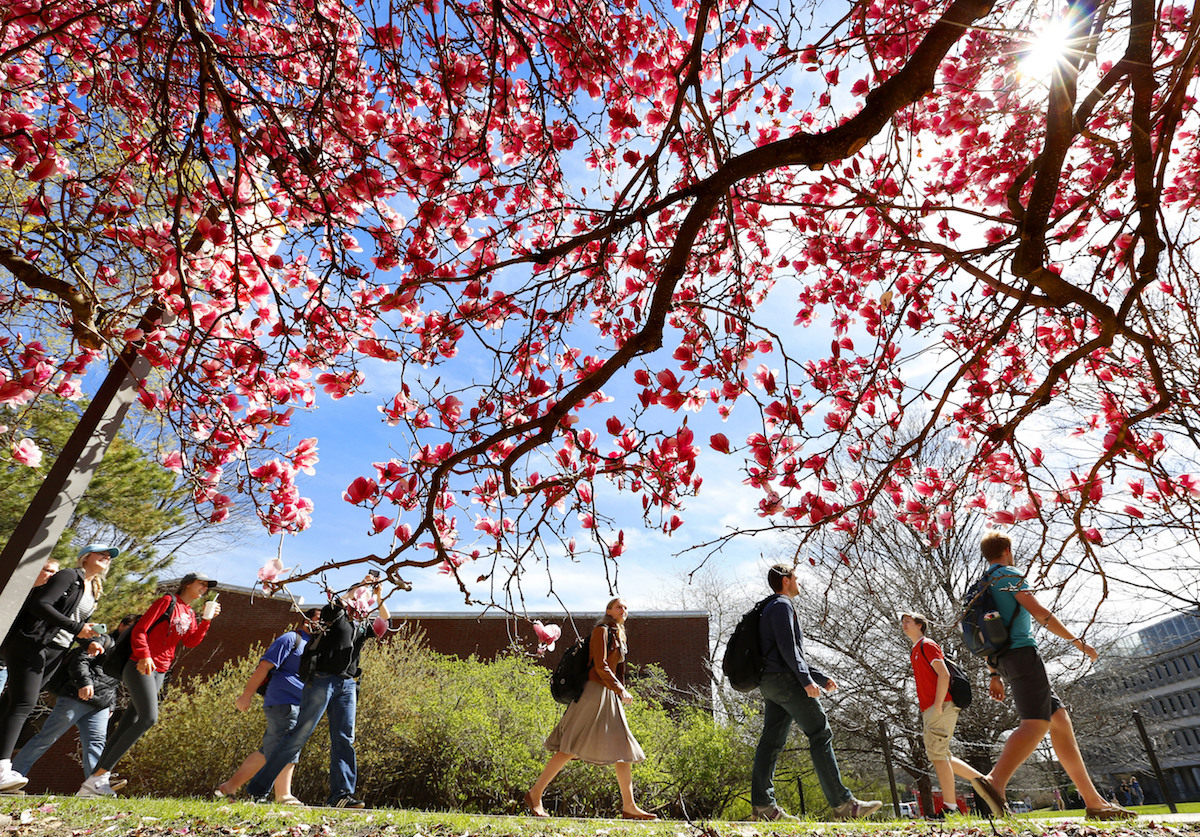 Many College of Liberal Arts and Sciences researchers—from plant pathologists and artists to computer scientists and historians—were among the 250 Iowa State University researchers who participated in ISU Research day, on March 28.
Organized by the Office of the Vice President for Research, ISU Research Day allowed faculty members and researchers to tout their work, learn about ongoing research, network with colleagues and explore the possibility of collaborating with other Iowa State researchers.
Presenters and participants attended lightning talks and poster sessions where researchers showcased their work and answered questions. The Story Collider program featured speakers who shared stories about meaningful experiences and defining moments that greatly impacted their research careers.
"Research Day is a wonderful opportunity to increase awareness and promote collaboration across disciplines," said Jacqueline Campbell (08, genetics and zoology, MA '10, genetics). "We can't possibly know and meet everyone on campus and this event is a great way to connect with other researchers and share information and resources."
Campbell, an Iowa State plant geneticist who specializes in evolution and plant genomes, provides data to researchers who help farmers grow more robust crops and boost their yield per acre. She presented her research, "Data: A Love-Hate Relationship and How Research Databases Can Help" during one of the four-minute lighting talks. She also exhibited her work during a poster session.
Scientific stories
The Story Collider program included presentations from four LAS researchers. One of the storytellers, Tom Harrington, an Iowa State plant pathologist and microbiologist, explained how a species of fungi came to bear his name.
"In 1977, I fell in love with a fungus, Ceratocystis, and I've been studying it ever since," said Harrington.
Harrington discovered a new species of Ceratocystis. In the world of fungus research, a scientist who finds and verifies a new species, is allowed to name it. Harrington unwittingly proposed an existing name, Ceratocystis Populicola. The oversight automatically disqualifies a researcher from choosing the name—and Harrington lost the naming rights to his own discovery.
South African researchers, who Harrington had viewed as rivals, extended a kindness and applied to have the fungi officially named Ceratocystis Harrington.
"The species that I began studying many years ago, now bears my name," said Harrington. "However, in the end, the lesson learned was that naming a species isn't as important as managing the diseases caused by this fungus; or the research advances that we have made through the years."
Harrington added that ISU Research Day was "extremely worthwhile" and allowed him to engage with other researchers. "I was able to meet student researchers from my department, that I had never met before, and we had interesting discussions about their work."
Nearly 200 attendees turned out for the keynote speech by Margaret Hedstrom, the Robert M. Warner Professor of Information Services and Interim Director of the Museum Studies Program at the University of Michigan. Hedstrom addressed how meaningful use of data and scholarship by the public requires conscious investments in policies, infrastructure and practice to make the promise of public access a reality.
ISU Research Day is held every year. The fourth annual ISU Research Day is scheduled for Wednesday, March 25, 2020, in the Memorial Union.
2019 ISU RESEARCH DAY PARTICIPANTS FROM THE LAS COLLEGE INCLUDE:
LIGHTNING TALKS
  CASON MURPHY – Music & Theater
  JEREMY BEST – History
  CHARLIE NAGLE – World Languages & Cultures
  ANDREW SOMERVILE – World Languages & Cultures
  AMANDA PETEFISH-SCHRAG – Music & Theater
  SIMON CORDERY – History
  JACQUELINE CAMPBELL – Computer Science, Research Analyst
  CHRISTINA SVEC – Music & Theater
Videos of all lighting talks can be accessed here: https://vimeo.com/album/5881906
LAS POSTERS, EXHIBITS AND CREATIVE SCHOLARSHIP
DENIS PRODIUS, AMES LABORATORY
Employing Green Chemistry Principles for Recycling of Rare Earth Elements and Cobalt
Top Research Interests: Recycling of critical elements from e-waste
Expertise to offer: Any applicable
Expertise sought: Chemistry and materials science
JACQUELINE CAMPBELL, COMPUTER SCIENCE
You May Say I'm a Dreamer…
A Federation of Legume Data Providers Promoting Data Standards and Providing Software Solutions for Cross-platform Legume Research
Top research interests: Agricultural data and databases, data curation, training, legumes, interoperability, data sharing
Expertise to offer: Genomics, genetics and breeding in agricultural research
Expertise sought: Resource and software development, metadata/ontology and data management training development
SUSAN VANDERPLAS, STATISTICS
A Longitudinal Database of Athletic Shoe Outsole Wear
Top research interests: Data visualization, forensics, statistical computing, perception, computer vision, human-computer interaction, open-source software
Expertise to offer: Data science, large data sets, statistical computing, data visualization
Expertise sought: Computer vision, engineering, group dynamics psychology, cognitive psychology
MIRANDA TILTON, CENTER FOR STATISTICS & APPLICATIONS IN FORENSIC EVIDENCE
Automatic Identification of Footwear Class Characteristics
Top research interests: Statistics, forensics, footwear, machine learning, statistical computing, visualization
Expertise to offer: Statistical computing, critical thinking, effective communication of statistical concepts
Expertise sought: Machine learning, computing in R or Python, feature engineering, forensic knowledge
LINDA SHENK, ENGLISH
KRISTIE FRANZ and LAURA MERRICK, AGRONOMY
Coalition Building in an Urban-Rural Watershed
Top research interests: Community engagement, hydrology, water quality, equity
Expertise to offer: Community engagement, hydrology, water quality
Expertise sought: Economics, pollinators, environmental policy
JIM RANALLI, ENGLISH
Process Tracing for Formative Assessment of the Development of Writing Skills
Top research interests: Supporting student writers in the development of disciplinary writing skills, particularly in the STEM fields
Expertise to offer: Writing pedagogy, writing processes, self-regulated learning, applications of technology in writing and learning to write
Expertise sought: Software development, writing in STEM/engineering, design-based research
BRAD DELL, MUSIC & THEATER
Reinventing Theater Training to Empower Citizen Artistry
Top research interests: Higher education, activism, theater, arts, education, leadership, gender equity, community engagement
Expertise to offer: Communication skills, artistic interpretation, community engagement, conversation facilitation
Expertise sought: Social activism, leadership, community engagement
DARA WALD, GREENLEE SCHOOOL OF JOURNALISM & COMMUNICATION
Understanding the Role of Trust and Credibility in Science Communication
Top research interests: Environmental communication, human dimensions of wildlife, science communication, risk communication
Expertise to offer: Social science research methods and experience with interdisciplinary collaboration
Expertise sought: Ecology, environmental studies, natural resource management, interest in science, environmental or risk topics
KARTHIK MURUGAN, BIOCHEMISTRY, BIOPHYSICS & MOLECULAR BIOLOGY
Differential Nicking Patterns of Cas12a Variants
Top research interests: CRISPR-Cas biology and technology, Cas9, Cas12a, specificity studies, protein-DNA_RNA interactions
Expertise to offer: CRISPR technology, Cas9, Cas12a/Cpf1, genome editing, specificity, protein purification, in vitro assays, gRNA design
Expertise sought: Bioinformatics, biostasts, statistics programming, genome editing
ZHENGYUAN ZHU, CENTER FOR SURVEY STATISTICS & METHODOLOGY
Spatial-Temporal Imputation of LandSat Data to Produce Time Series of Surface Water Area for the National Resources Inventory Survey
Top research interests: Spatial statistics, survey statistics, data science, computational statistics
Expertise to offer: Spatial-temporal data analysis, functional data analysis, statistical data integration, remote sensing data, survey design, spatial sampling design
Expertise sought: Optimization, image processing, machine learning and deep learning
JIM EVANS, PHYSICS & ASTRONOMY
Evolution in the Nanoworld: Reshaping and Intermixing for Metallic Nanocrystals
Top research interests: Self-assembly and stability of nanostructures, catalytic reaction-diffusion (modeling)
Expertise to offer: Experimental programs in the above areas
Expertise sought: Predictive atomistic-level and coarse-grained modeling
AMANDA PETEFISH-SCHRAG, MUSIC & THEATER
Puppet Design and Construction for ISU's Theater's "Iphigenia"
Top research interests: Puppetry and masks, ritual theater, decolonized theater/storytelling practice
Expertise to offer: Puppetry, playwriting, acting/directing, ritual theater, feminist theater and eco-theater practice
Expertise sought: Dramaturgy (various disciplines), ecology/climate science, gender studies, ethics
STORY COLLIDER PROGRAM, LAS PARTICIPANTS
MICHAEL DAHLSTROM, GREENLEE SCHOOL OF JOURNALISM & MASS COMMUICATION
The Power of Storytelling—Your methods, results and conclusions only capture a small part of your larger research story.
Top research interests: Communication of science, environment, risk health and agriculture
Expertise to offer: Science Communication, message testing, survey design
Expertise sought: Perceptions of awe and wonder related to science and/or communication
TOM HARRINGTON, PLANT PATHOLOGY & MICROIOLOGY
Privileges and Potential Embarrassments in Naming New Species of Fungi—Describing a new species gives you naming rights, and your name is forever attached to the species name, if you follow the rules.
Top research interests: Forest pathology and mycology
Expertise to offer: Fungal genetics, fungal biology, tree and forest biology
Expertise sought: Bioinformatics
LEONOR LEANDRO, PLANT PATHOLOGY & MICROBIOLOGY
Science Takes a Village—After a failed experiment, it takes the help of many people to get the research back on track.
Top research interests: Biology and management of fungal diseases of soybeans
Expertise to offer: Plant pathology, mycology, soybean disease management
Expertise sought: Cover crops, root anatomy, plant physiology
NATHANIEL WADE, PSYCHOLOGY
My Own Piece of Hilton Magic—When emails come from research participants, you hold your breath.
Top research interests: I love conducting research on psychotherapy, including forgiveness therapy, religion and spirituality and therapy, and the help-seeking process.
Expertise to offer: I have expertise with intervention research, forgiveness, religion and spirituality in the therapy context, and stigma associated with therapy.
Expertise sought: I am always looking for people who can. Help me find/collect interesting participant samples and analyze data.
Published: April 2, 2019