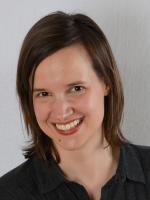 Amanda Petefish-Schrag, assistant professor of theatre, is one of five playwrights selected nationally to participate in the the Athena Project's 8th Annual Plays In Progress Series. Plays In Progress is a program that fosters new works exclusively written by women playwrights. Over 250 plays were submitted from across the country.
Petefish-Schrag was selected for her play "Endurance of Light," which tells the story of Sophie, a scientist, who refuses to leave her bed. Instead, she spends her time lost in piles of books, trying to discover the reason for her multiple miscarriages. Her husband and her mother desperately try to connect with her, unaware that her bedroom has become a surreal landscape where Sophie, along with Sir Ernest Shackleton and his ship, The Endurance, are perpetually trapped in the Antarctic ice. Guided by an impudent Albert Einstein and spirited Hildegard Von Bingen, Sophie must navigate the mysterious forces that now threaten to trap her forever as past and present, faith and science, collide.
The Plays In Progress Series will take place at the Aurora Fox Arts Center in Colorado later in 2019. Each playwright is given the opportunity to work with a dramaturg and gain feedback from professional actors, directors and an audience. The workshop productions including a table read, concert reading, and basic set, lights, sound and props.
Petefish-Schrag's playwriting work has been produced at festivals and theaters in London, Chicago, New York, Los Angeles, Kansas City, Minneapolis, Milwaukee, and Iowa City, and has been published by Playscripts, Inc., and Smith and Kraus.
Published: March 4, 2019