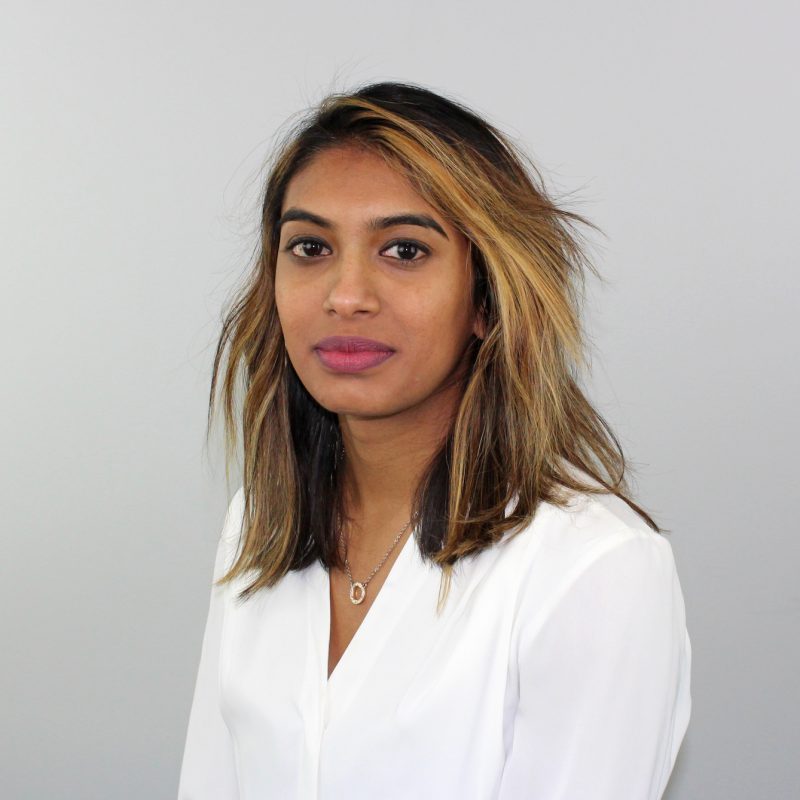 Thank you to LAS Week 2019 Sponsor Kingland Industries for supporting our student-centered celebration of liberal arts and sciences education!
Meet Manaswi Podduturi (MS '18 computer science), a current software designer at Kingland in Ames.
What is your current position at Kingland?

"We recently had companywide changes and my role changed from software engineer to software designer. I have been working with Kingland for almost two years. I started off as Advanced Software Intern in summer 2017. I continued working as a part-time intern through Fall 2017 and converted to full-time in January 2018."
What kinds of projects do you work on and what does a typical day look like for you?

"After transitioning to the role of software designer, I started interacting a lot with the software architect on the team and developers. I spend half of the time every day reviewing software developers' work and answering the questions they might have on the designs I worked on. My team has quite a few relatively new software developers, so I sometimes help them come up to the speed and spend time with them to help debug issues. The other half of the day is mostly focused on designing new work. In other words, exploring lots of new tools, technologies and software to come up with a solution for a particular software problem, writing documents about why we chose one over another and lot of other similar fun design documents."
What excites you about your job?

"The fact that I can go and talk to any person on the team, be it an architect, designer or a developer any time of the day. Everyone on the team is so flexible and readily available for collaboration and answering questions. There were lot of technologies that I was not familiar with when I joined Kingland. It was overwhelming at first, but my teammates were always there for me to help me understand better and learn those technologies. My team is my support system. Besides work,  Kingland treats its employees really well. I really enjoy the employee perks from informational lunch and learns to ice cream carts in summers to smoothies. We have something going on every week."
What is one recent work project or work accomplishment you are proud of?
"Within a few days of transitioning into a software designer role, I was trusted to design an essential part of my team's software ecosystem. I didn't have experience with something like that before. It was very new – there were so many factors to be considered, so many questions to be answered. The thought of disappointing my teammates was always running in the back of mind. After a few weeks everything came together. The entire experience of working with teammates and writing documents was just an amazing experience. It puts a smile on my face whenever I think of it. The chances like this are what makes me love my company more."
What did you do to prepare for the future while at Iowa State? What advice do you have for current students?

"Build a community. Networking is key. Go to as many conferences as possible. You get to meet great people who are successful in their career, hear their inspiring stories about how they struggled to get where they are and how they overcame it. If you are like me and love to go to new places, conferences are the best way to get paid vacation. Most of the conferences I went to were paid. If you are a female, please do apply for CRA Women conference that happens every year in Spring. I met a lot of inspiring women and it was just amazing to hear their stories.
After you come back from conferences, do not forget to write a message to the speakers who inspired you and invited them to connect with you in LinkedIn. You never know how they can help you.
We all work hard to be good at academics. But it is also important to take part in student activities. Be it poster presentations, or taking part in competitions or being part of club or mentoring. Key points like this can make you really stand out. It is also a great way to increase your network."
What's your favorite ISU memory?

"I always wanted to dance on stage from young age, and I never did it because I was too afraid to go on stage. But finally in my last semester I told myself 'if not now, it's going to be never.' So my friends and I performed for 'Diwali night' at ISU. I was obviously embarrassed after the performance, but now I know I am a way better dancer off stage and I don't have any regrets for not trying."
What's your favorite ISU class?

"Most of the classes I had were my favorite, and out of those COMS 531 and COMS 511 really stick out. These were challenging classes. I really liked these two classes because of the fact that we used to have homework due at Friday 12 a.m. and all the students would come together in Atanasoff 115 every Friday to work on the homework. All the murmuring in the room and going out to have pizza or a drink after submitting the homework was just amazing experience. I will never forget those days."
Published: February 11, 2019