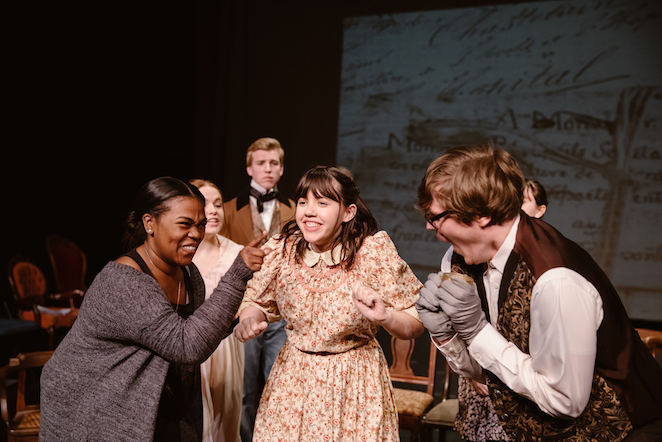 Jane Austen fans, rejoice! ISU Theatre is bringing Austen's classic novel "Sense and Sensibility" to the stage this February. The quick-witted, romantic adaptation plans to imbue Austen's beloved novel with a fresh female voice, emotional depth, lots of humor and bold theatricality when it opens Friday, February 22 at 7:30 p.m. at Fisher Theater in Ames.
"Sense and Sensibility," based on Austen's 1811 novel, captures the story of the Dashwood sisters – sensible Elinor and hypersensitive Marianne – as they are plunged into financial and social uncertainty after the death of their father. The sisters must learn to weather the ridiculous societal pressures of the time to secure love and happiness.
Penned by Iowa State University alumna Kerry Skram ('95 English), this adaptation is a whimsical, relevant and contemporary take on the protocols of love, said Cason Murphy, assistant professor of theatre and the show's director.
"Kerry's style as a playwright is everything a director could hope for," Murphy said. "She has expertly compressed nearly 400 pages of text into a fleet 2-hour production that still feels full of that Jane Austen spirit."
"I love that this script was adapted by a local female playwright," said Olivia Griffith ('19 performing arts), who plays the role of Elinor Dashwood. "The way she's written this piece gives each of the women their own voice, and their different forms of strength are a big part of what keeps Jane Austen's work fresh today."
Moments of whimsy will lighten the production's formal social conventions, like when letters fall down upon a male lead after one of the sisters writes him love notes. All characters will be on stage during the entire production, Murphy said, creating a diorama-like view of the social circles surrounding the Dashwood family.
"It's a world without walls," Murphy said. "Since gossip is such a dominant force in the story, it was more important for the set to keep the characters present on stage to see and hear everything rather than mimic an authentic English estate."
While instrumental versions of pop music will give the show modern soul, the production retains the period costumes, language and setting of Regency-era England. It also includes a dance scene that Skram wrote specifically for the ISU Theatre production.
Abbigail Markus ('22 statistics), the show's assistant director, hopes audiences will enjoy this unique take on a classic novel.
"While this is a period piece, the actors and technical team are creating an illusion that allows the audience to be part of this surprising rollercoaster," Markus said. "We can really connect as audience members because we are familiar with the music selected, the relatability of the characters and we can see all actors at all times. This is different and a great modern twist."
Die-hard Austen fans need not fear, however.
"Jane Austen fans will walk away satisfied with an authentic adaptation while Austen newcomers will be inspired to read the original work and learn more," Murphy said.
Cast members include:
Levi Miller as Henry Dashwood
Hayden Walker as John Dashwood
Lauren Kawamura as Fanny Dashwood
Alyson O'Hara as Mrs. Dashwood
Olivia Griffith as Elinor Dashwood
Erica Walling as Marianne Dashwood
Isabella Witte as Margaret Dashwood
Liam McDermott as Sir John Middleton
Joi Wright as Mrs. Jennings
Calvin Clark as Colonel Brandon
Jonah Miller as John Willoughby
Oliver Stratton as Edward Ferrars
Erin Stein as Lucy Steele
Lillie Anderson as Servant
Hannah Brennan as Servant
Morgan Mulford as Servant
Trevor Rhedin as Servant
Cael Wyatt as Servant
Creative team includes:
Director – Cason Murphy
Assistant Director – Abbigail Markus
Scenic Designer – Rob Sunderman
Costume Designer – Sarah Henrich
Lighting Designer – Jared Rickard
Technical Director – Natalie Hining
Stage Manager – Sara Elkhatib
Hair and Makeup Designer – Amelia Brown
"Sense and Sensibility" opens on Friday, February 22 at 7:30 p.m. with additional evening performances on February 23, March 1 and March 2 at 7:30 p.m. Matinee performances will be held on February 24 and March 3 at 2:00 p.m. All performances are in Fisher Theater in Ames.
Tickets are available through the Iowa State Center Ticket Office, all Ticketmaster locations or the Fisher Theater box office prior to performances. Tickets are $18 for adults, $16 for seniors, and $11 for students.
For more information, visit www.theatre.iastate.edu, email isutheatre@iastate.edu or call 515-294-2624. ISU Theatre is funded by ISU Student Government and supported by the Transforming Liberal Arts and Sciences Endowment.
About ISU Theatre
As a part of the Iowa State University Department of Music and Theatre, ISU Theatre seeks to empower citizen artistry by engaging students and the community in transformative theatre and performing arts experiences which examine the human condition, encourage lifelong learning, teach artistic skills, prepare professionals, inspire empathy, explore creativity, build relationships, and embrace diversity. ISU Theatre administers a major and minor in performing arts and produces multiple theatre and performing arts productions throughout the year featuring performers, designers, and technicians from throughout the university.
The ISU Theatre CoLab Initiative seeks to foster collaboration and engagement between ISU Theatre and other groups both within ISU's campus and throughout the broader community to create citizen artistry, inspire and be inspired by meaningful public discourse and expand opportunities for ISU students, faculty and staff.
Published: February 8, 2019