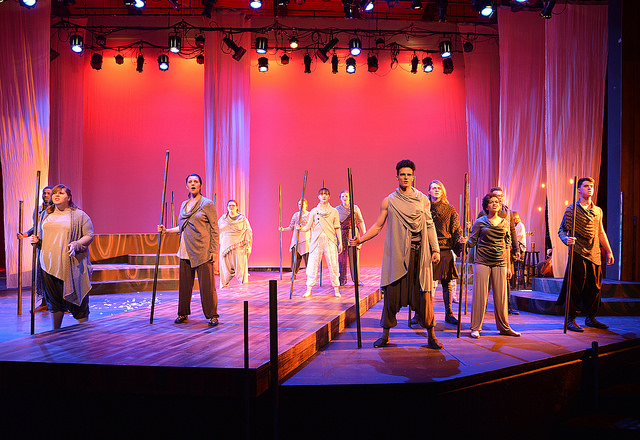 ISU Theatre's production of "Iphigenia," adapted and directed by Assistant Professor of Theatre Amanda Petefish-Schrag, has been selected to be performed at the Region 5 Kennedy Center American College Theatre Festival (KCACTF) in Sioux Falls, South Dakota, in January, 2019. This is the only production from the state of Iowa invited to perform at the festival.
"Being invited to share our work at KCACTF is an incredible opportunity in so many ways," Petefish-Schrag said. "We get to share the innovative work we are engaged in at Iowa State University with theatre artists from the academic and professional world.  Perhaps even more exciting, we have this tremendous chance to expand our laboratory and see how the production elements we've worked so hard to develop can interact under a new set of circumstances – new audience, new space, new time."
The production will perform on Wednesday, January 23, at the Orpheum Theatre in downtown Sioux Falls for festival attendees and nationally recognized guest artists who will respond to all aspects of the production. "Iphigenia" originally performed on campus in Spring 2018.
"Working on 'Iphigenia' was one of the most collaborative and experimental experiences I have had at Iowa State University, and I am so thankful that we have the opportunity to explore this play together once more," Vivian Cook, a senior in performing arts and the production's assistant director, said. "Theatre often seems like a fleeting art form. We prepare, we perform, and then we let go in order to move on to the next project. This sort of opportunity does not come very often in our field, and I can't wait to see how, after many months of rest, this story comes alive again."
"'Iphigenia' has been incredibly meaningful to my fellow cast members and me because we had so much influence during the rehearsal process. This is a show created through collaboration," Alyson O'Hara, a junior in graphic design and cast member, said. "That is why it is so exciting to share our hard work and passion with a new audience, and get to have conversations with other storytellers about what this show means to us."
As part of the preparation for the trip to KCACTF, an encore performance of "Iphigenia" will be performed at Fisher Theater on Saturday, January 19, at 7:00 p.m. More details about this performance will be announced in January.
KCACTF is a national organization affiliated with the Kennedy Center in Washington, D.C. The organization celebrates and encourages excellence in college and university theatre across the country. Region 5 includes colleges and universities in Iowa, Minnesota, North Dakota, South Dakota, Nebraska, Kansas, and Missouri.
Published: December 14, 2018