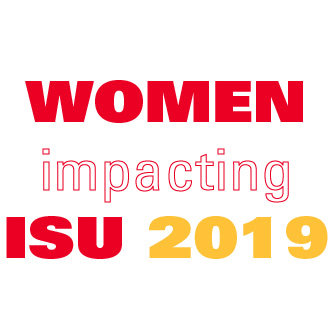 The Carrie Chapman Catt Center for Women in Politics honored four women in the College of Liberal Arts and Sciences by selecting them to be a part of the thirteenth annual Women Impacting ISU calendar in 2019.
The LAS women, two students and two faculty members, are four of 70 total nominees for the 2019 Women Impacting ISU calendar. They were selected based on their achievements in service, teaching, research, administration and other campus activities.
The 2019 calendar will be officially unveiled during a reception recognizing the 12 honorees on Wednesday, Jan. 16, from 3:30 to 5 p.m. in the Sun Room/South Ballroom of the Memorial Union. The half-hour program will begin at 4 p.m. After the program, copies of the calendar will be distributed for free. The reception is free and open to the public.
2019 LAS honorees:
Ihssan Ait-Boucherbil, senior in chemistry
Zoey Shipley, senior in political science
Mayly Sanchez, professor of physics and astronomy
Amy Slagell, associate dean for academic programs in the College of Liberal Arts and Sciences
See the full list of 2019 honorees here.
Published: November 28, 2018