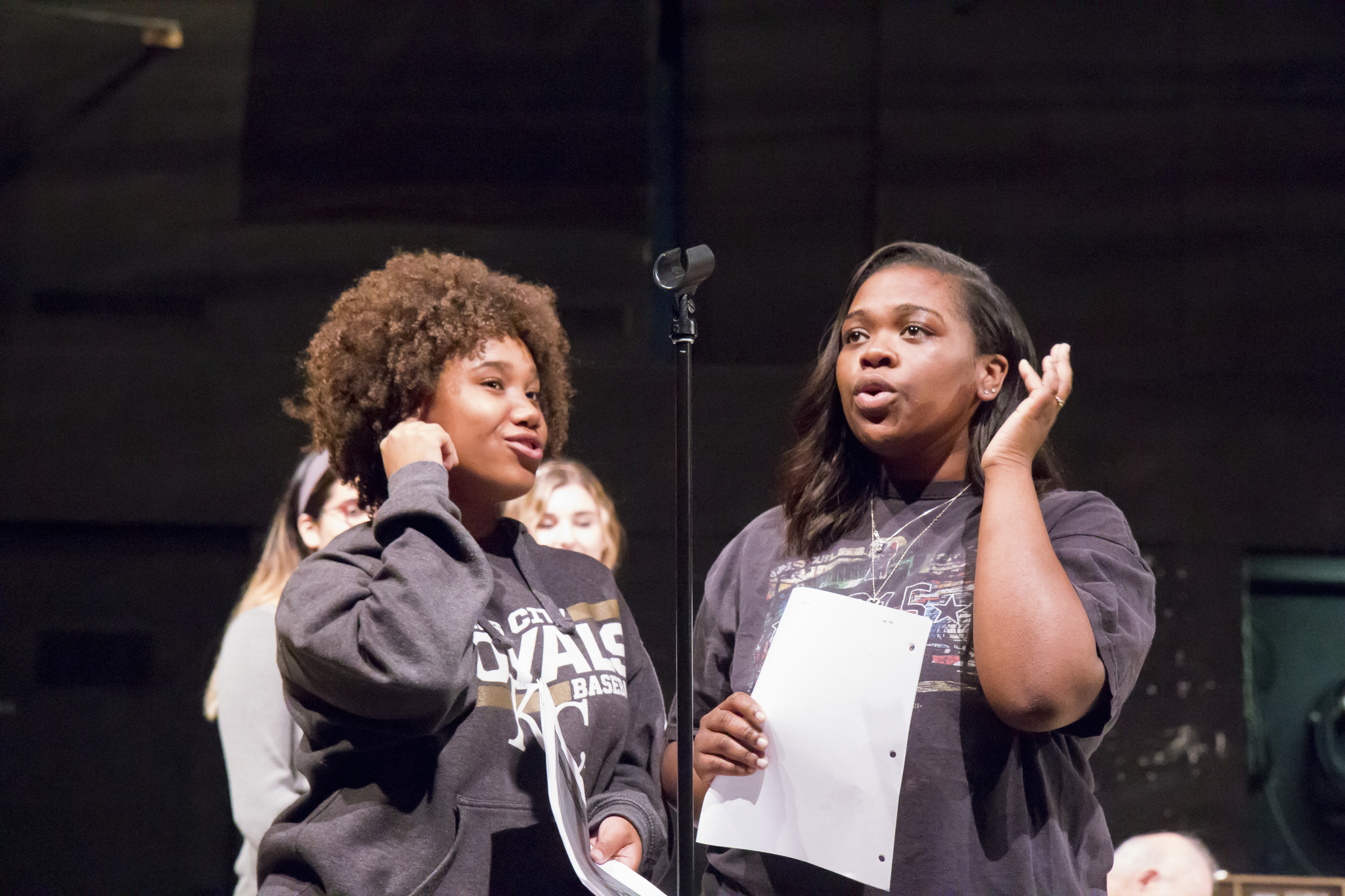 Experience a beloved American holiday classic when ISU Theatre presents "It's a Wonderful Life: A Live Radio Play," a captivating stage adaptation of Frank Capra's treasured film.
Opening Friday, November 30 at 7:30 p.m. at Fisher Theater in Ames, this heartwarming story of idealistic George Bailey's fateful Christmas Eve will unfold through a live 1940s radio broadcast.
This fresh telling of a favorite story includes a live sound effects artist, an ensemble cast that will bring dozens of characters to the stage and old-fashioned radio jingles. Audiences will enjoy the production's elegant art deco style and period costumes.
"Working on this production has been a delight," said director Egla Birmingham Hassan, a nationally renowned theatre director and educator and the inaugural Liberal Arts and Sciences Dean's Artist in Residence. "I have enjoyed watching the Frank Capra movie every Christmas season. This production process has allowed me to collaborate with a group of enthusiastic and committed young artists in finding new ways to share an important old message."
Iowa State sophomore Francesca Geis, a hospitality management major, is the production's Foley artist who will create live sound effects on stage.
"One fun prop is the trash can we use for car sounds," Geis explained. "We put a fan inside and use a lid to make it sound like an old car engine. This is how they would actually make this sound back in the forties."
Her favorite sound effect draws from a moment that will be familiar to fans of the film.
"My favorite sound is the last bell in the show because that's the one with the famous line, 'Daddy, teacher says every time a bell rings an angel gets his wings,'" Geis said. "It's just a sweet scene."
The show also includes live music by jazz pianist Kenneth Jolls, professor emeritus of chemical and biological engineering and member of the Des Moines Community Jazz Center Hall of Fame. A highly respected Central Iowa musician, Jolls is a frequent performer in Ames, including at Chocolaterie Stam on Main Street.
Jolls will perform music for the radio jingles in the show, as well as improvisational jazz to transition between scenes.
"We are all determined to put the words, the movements, the sounds and the music just where the director wants them," Jolls said. "For those 90 minutes in Fisher Theater we will have perhaps 400 people in the palms of our hands, and when we let them go we want to see 400 smiles. Let's hope your smile will be among them!"
Hassan's residency at Iowa State is funded by the Transforming Liberal Arts and Sciences Endowment which seeks to bring leading creative or performing artists to Iowa State. Hassan, a director and professor of theatre at Western Illinois University, has offered guest lectures and master classes in multiple Iowa State theatre classes this semester.
"I love working with students," she said. "Being in the same place when a light bulb goes off for a student is the best."
Hassan hopes audiences will enjoy the nostalgia of a familiar story and of classic holiday songs like "Auld Lang Syne," while also feeling newly inspired to participate in their local communities.
"The play says, 'I have to participate to make it a wonderful life.' If we do good, we get good," she said.
Members of the show's company include:
Cast

Stage Manager – Nathan Krusemark
Freddy Filmore (Announcer and others) – Maxfield Coenen
Jake Laurentis (George Bailey) – Levi Miller
Harry Jazzbo Heywood (Clarence and others) – Ben Mayer
Jackie Kelk (Mr. Potter and others) – Jobe Fee
Goodman Ace (Uncle Billy and others) – Jacob Foster
Sally Applewhite (Mary Hatch) – Jensen Wilke
Lana Sherwood (Violet and others) – Rachel Ward
Charita Bauer (Rose Bailey and others) – Bethmari Marquez
Sandra Young – Sydni Lapsley
Clarice Thomas – Joi Wright
Irene Turner – Margaret Smith
Foley Artist – Francesca Geis
Pianist – Kenneth Jolls
Creative Team
Director – Egla Hassan
Costume Designer – Kelly Marie Schaefer
Scenic Designer – Jim Trenberth
Lighting Designer – Jim Trenberth
Stage Manager – Rachel Shaw
Assistant Director – Sarah Bennett
Hair and Makeup Designer – Amelia Brown
Technical Director – Natalie Hining
Assistant Stage Manager – Francesca Geis
Assistant Stage Manager – Emily Oldham
Light Board – Jared Rickard
Sound Board – Thomas Mack
Costume Shop Supervisor – Doris Nash
Props Master – Amy Taylor
"It's a Wonderful Life: A Live Radio Play" opens on Friday, November 30 at 7:30 p.m. with additional evening performances on December 1, 7 and 8. Matinee performances will be held on December 2 and 9 at 2:00 p.m. All performances are in Fisher Theater in Ames.
Tickets are available through the Iowa State Center Ticket Office, all Ticketmaster locations or the Fisher Theater box office prior to performances. Tickets are $18 for adults, $16 for seniors and $11 for students.
For more information, visit www.theatre.iastate.edu, email isutheatre@iastate.edu, or call 515-294-2624. ISU Theatre is funded by ISU Student Government and supported by the Transforming Liberal Arts and Sciences Endowment.
About ISU Theatre
As a part of the Iowa State University Department of Music and Theatre, ISU Theatre seeks to empower citizen artistry by engaging students and the community in transformative theatre and performing arts experiences which examine the human condition, encourage lifelong learning, teach artistic skills, prepare professionals, inspire empathy, explore creativity, build relationships, and embrace diversity. ISU Theatre administers a major and minor in performing arts and produces multiple theatre and performing arts productions throughout the year featuring performers, designers, and technicians from throughout the university.
The ISU Theatre CoLab Initiative seeks to foster collaboration and engagement between ISU Theatre and other groups both within ISU's campus and throughout the broader community to create citizen artistry, inspire and be inspired by meaningful public discourse and expand opportunities for ISU students, faculty and staff.
Published: November 16, 2018