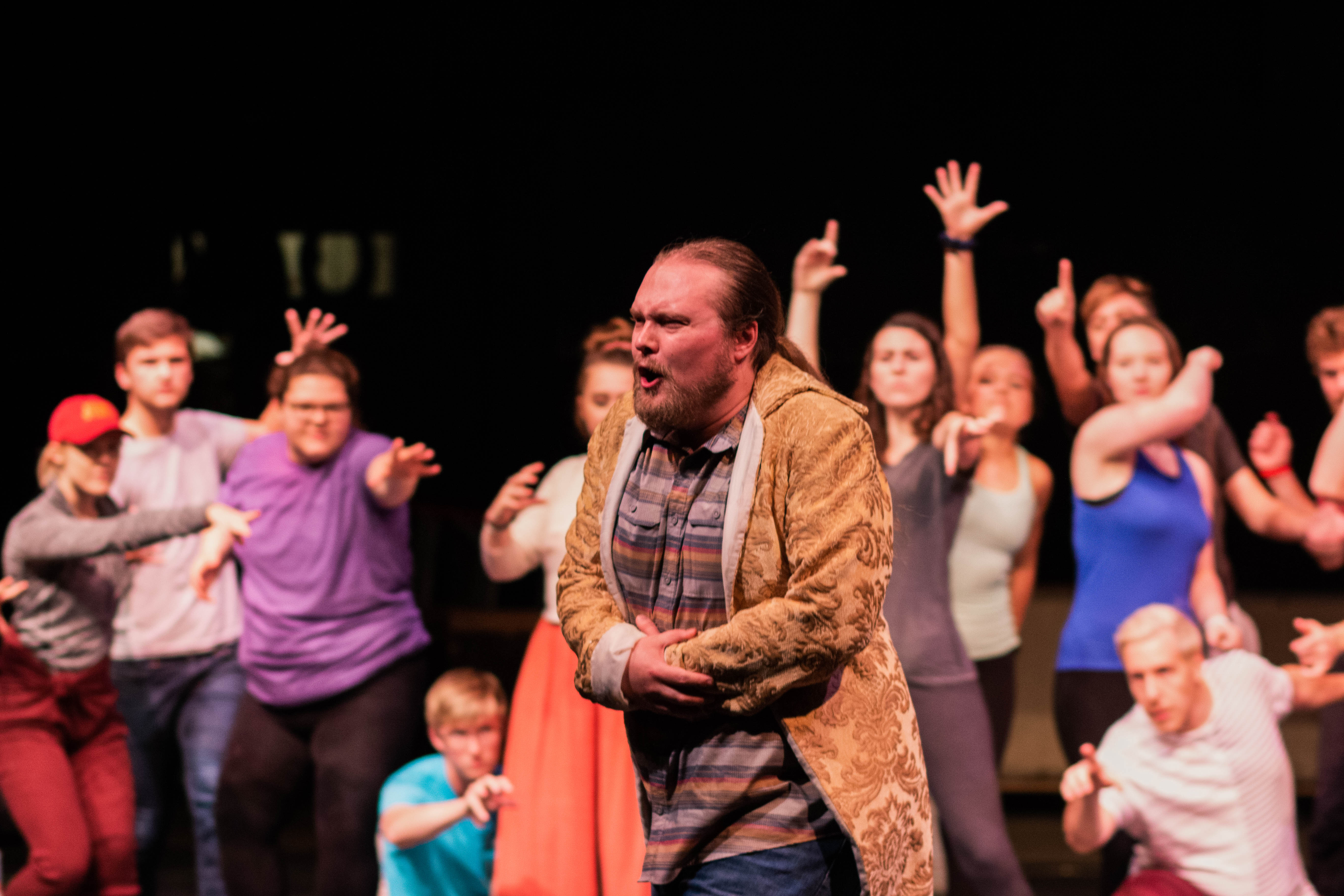 What happens when a group of bored Roman gods arrive in Hades searching for saucy, bacchanalian revelry? Find out when "Orpheus and the Underworld," one of the most satirical and hilarious operas of all time, brings a universe of cheeky exuberance to Fisher Theater in Ames. This comic romp opens on Thursday, November 1 at 7:30 p.m. and will run through Sunday, November 4.
Every three years, ISU Theatre and Opera Studio collaborate to perform a full-scale opera during the ISU Theatre season. "Orpheus in the Underworld" should appeal to traditional opera lovers and new fans alike, Brad Dell, director of ISU Theatre, said.
"For someone who has never seen an opera before, this show is a fabulous gateway drug," Dell said.
In a retelling of the classic myth, the show follows Orpheus as he travels from the pastoral loveliness of earth through the dizzying frivolity of Olympus to the decadent hedonism of Hades. "Orpheus in the Underworld" is a French Libretto by Hector Cremieux and Ludovic Halevy, adapted for English by Rebecca Renfro Grimes in collaboration with ISU Music's Opera Studio. The music by Jacques Offenbach includes one of the most famous songs of all time — "Can-Can."
"The music is wildly catchy, but it's still lush, gorgeous, classical opera music," Dell said. "And, you will also get to see a kick line exploding all over Fisher Theater."
"Almost every tune in 'Orpheus' is an earworm in its own right that you could leave the theatre humming," Jodi Goble, ISU senior lecturer in music and vocal coach, said. "The Can-Can merely has the advantage of being the last thing you hear before the final curtain."
The opera has the spirit of "Moulin Rouge" and "Mardi Gras" and delivers light, boisterous fun from start to finish.
"The worst thing in this particular universe is boredom," Dell said. "Everyone is striving for a giddy release to their monotonous lives."
Cast members include:
Eurydice – Rayna Morano
Cupid – Bridget Ann Johnston
Diana – Morgan Sacia
Venus – Sadie Etzel
Minerva – Olivia Gasper
Public Opinion – Samantha Schmitz
Juno – Claire Wessels

Orpheus –

 Ian Butler
Mercury – Derek Lutt
Pluto – Zachary Smith

Morpheus –

 Joel Williams
John Styx – Nicolas Ronkar
Jupiter – Michael Madison
Mars – Nicklas Day
Pomona – Sarah Madison
Luna – Morgan Reetz
Fortuna – Lena Frank
Larunda – Serena Hilton
Feronia – Kathryn Ripley
Neptune – Ryan Foreman
Sol – Lincoln Klopfenstein
Summanus – Logan Roling
Vulcan – Yann Ortuno
Pales – Joe Jackowski
Fons – Levi Frazier
The Creative Team includes:
Director – Brad Dell
Scenic Designer – Rob Sunderman
Costume Designer – Doris Nash
Stage Manager – Andrew Roskos
Music Director – Jodi Goble
Vocal Coach – Chad Sonka
Lighting Design – Jay Jagim
Choreographer – Valerie Williams
Assistant Stage Manager – Samuel Elliott-Rude
Assistant Director – Abigail Luchsinger
Conductor – Thomas Cunningham
"Orpheus in the Underworld" opens on Thursday, November 1 at 7:30 p.m. with additional evening performances on November 2 and 3 at 7:30 p.m. A matinee performance will be held on November 4 at 2:00 p.m. All performances are in Fisher Theater in Ames.
Tickets are available through the Iowa State Center Ticket Office, all Ticketmaster locations or the Fisher Theater box office prior to performances. Tickets are $25 for adults and seniors and $16 for students.
For more information about ISU Theatre, visit www.theatre.iastate.edu, email isutheatre@iastate.edu, or call 515-294-2624. ISU Theatre is funded by ISU Student Government and supported by the Transforming Liberal Arts and Sciences Endowment.
About ISU Theatre 
As a part of the Iowa State University Department of Music and Theatre, ISU Theatre seeks to empower citizen artistry by engaging students and the community in transformative theatre and performing arts experiences which examine the human condition, encourage lifelong learning, teach artistic skills, prepare professionals, inspire empathy, explore creativity, build relationships, and embrace diversity. ISU Theatre administers a major and minor in performing arts and produces multiple theatre and performing arts productions throughout the year featuring performers, designers, and technicians from throughout the university.
The ISU Theatre CoLab Initiative seeks to foster collaboration and engagement between ISU Theatre and other groups both within ISU's campus and throughout the broader community to create citizen artistry, inspire and be inspired by meaningful public discourse and expand opportunities for ISU students, faculty and staff.
Published: October 29, 2018