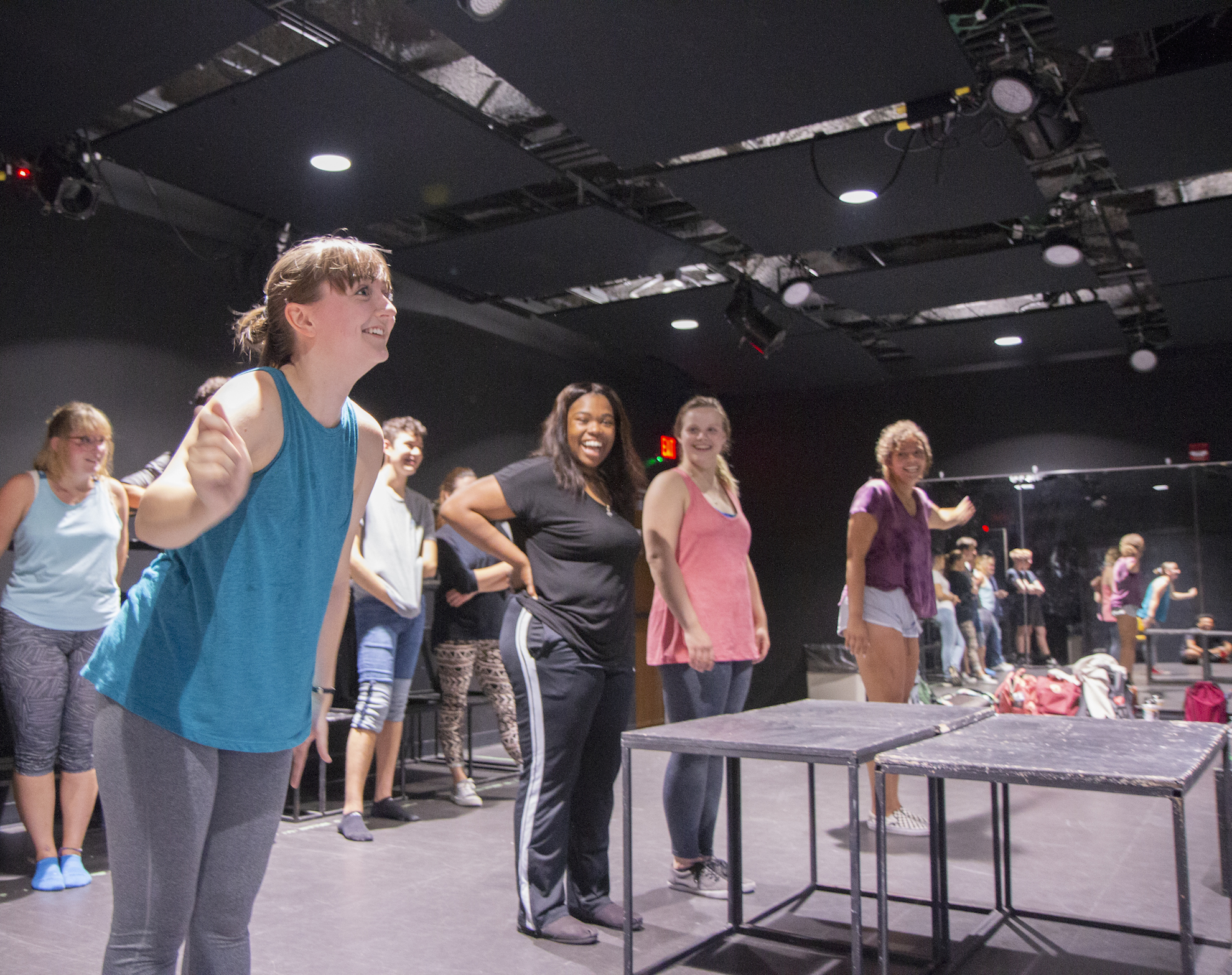 ISU Theatre presents a whimsical celebration of surrealist art and the imagination with "This Is Not a Pipe Dream," opening on Friday, September 28 at 7:30 p.m. The playful, family-friendly production will run for two weekends in Fisher Theater in Ames with special pricing for children's tickets.
Inspired by the life and work of the surrealist painter René Magritte, "This Is Not a Pipe Dream" by Barry Kornhauser follows a young boy who wants to be an artist. Though his desire is dismissed as "a pipe dream," he begins a quest into the delightfully absurd magic-realism of Magritte's famous paintings.
Directed by Amanda Petefish-Schrag, assistant professor of theatre at Iowa State University, "This Is Not a Pipe Dream" is a celebration of how art and the imagination help people confront life's traumas and mysteries.
"This show is such great fun to work on," Petefish-Schrag said. "It combines slapstick comedy, visual humor, and a tremendous sense of play with a real sense of tenderness and curiosity about what it means to live and love and hurt in this world.  This play is, like Rene Magritte's art, full of unexpected discoveries.  There are these moments that you initially think you understand one way, and then – surprise! – the thing you thought you understood gets flipped on its head."
Cast members include:
Interlocutor, Levi Miller
Stage Manager, Darrick Burrage
Anonymous Chorus/Rene – Pierce Adajar
Anonymous Chorus/Mother – Emily Heckle
Anonymous Chorus/Father – Keaton Lane
Anonymous Chorus/Teacher – Ellie Seaton
Anonymous Chorus/Georgette – Isabella Witte
Anonymous Chorus – Joi Wright
Anonymous Chorus – Nathan Krusemark
Anonymous Chorus – Kiera McGregor
Anonymous Chorus – Harrison Roose
Anonymous Chorus – Alyson O'Hara
Anonymous Chorus – Abbigail Markus
Anonymous Chorus – Amanda Gray
Anonymous Chorus – April Tan
The Creative Team includes:
Director – Amanda Petefish-Schrag
Assistant Director – Ian Steenhoek
Scenic Designer – Rob Sunderman
Costume Designer – Kelly Marie Schaefer
Lighting Designer – Jim Trenberth
Technical Director – Natalie Hining
Costume Shop Supervisor – Doris Nash
Stage Manager – Sydni Lapsley
Assistant Stage Manager – Sara Elkhatib
Hair and Makeup Designer – Amelia Brown
"This Is Not a Pipe Dream" opens on Friday, September 28 at 7:30 p.m. with additional evening performances to be held on September 29, October 5 and October 6. Matinee performances will be held at 2:00 p.m. on September 30 and October 7. All performances are in Fisher Theater in Ames.
Tickets are available through the Iowa State Center Ticket Office, all Ticketmaster locations or the Fisher Theater box office prior to performances. Tickets are $18 for adults, $16 for seniors, $11 for students and $5 for youth ages 17 and under.
For more information, visit www.theatre.iastate.edu, email isutheatre@iastate.edu, or call 515-294-2624. ISU Theatre is funded by ISU Student Government and supported by the Transforming Liberal Arts and Sciences Endowment.
Published: September 12, 2018