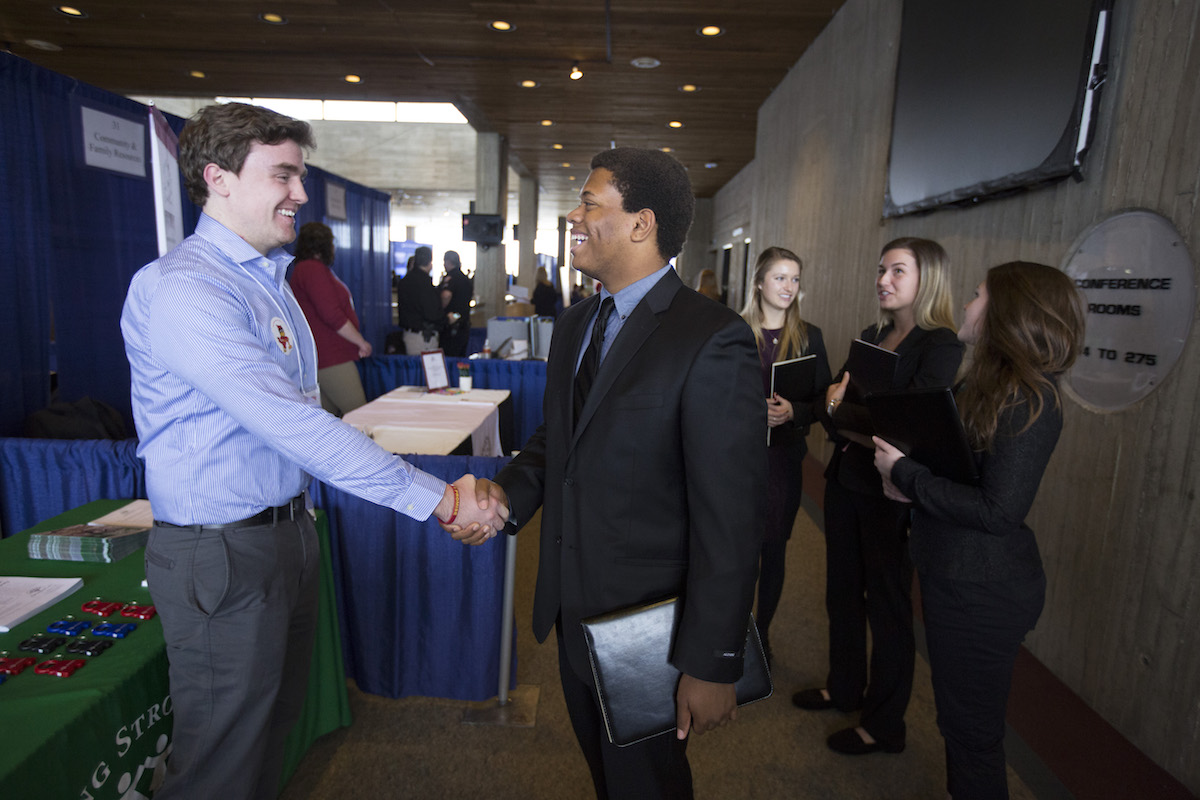 Several courses, including a new course offered by LAS Career Services, help students in the College of Liberal Arts and Sciences (LAS) incorporate career planning and preparation into their college plan.
Alexandrea Tucker ('21 mathematics) found an internship after her freshman year thanks to Career Development in Math and Statistics, a course created by Dawn Walker Chalmers, academic adviser for the Department of Mathematics and Department of Statistics.
"This course helped me understand the importance of preparing for a career as a first-year college student," Tucker said. "The knowledge I received from the course is invaluable. I was able to attend the career fair with more confidence. With the course's help, I was able to attain an amazing internship."
Tucker interned at Zirous, a technical solutions company in Des Moines, as an application developer intern. She worked on machine learning, a subset of artificial intelligence.
"It was an amazing experience where I was able to research machine learning and do hands on projects. Not only was I able to use the knowledge I learned in the classroom, I gained experience," Tucker said. "The careers class prepared me for every step of the process: resume writing, career fair and interview preparation, as well as what to do after finding an internship or career."
The course is designed to help students develop their skills from resume writing to job offer negotiating and to connect students with alumni and employers to share ways math and statistics majors can be applied in a career. It also helps students understand the amount of work and number of applications which may be required before obtaining a job or internship.
Career courses in performing arts, computer science and chemistry
Several departmental courses are helping students with career planning in their major.
A Performing Arts Seminar, taught by Brad Dell, associate professor and director of theatre, will help students transition into a performing arts professional.
"This course is designed to serve as a capstone experience for Performing Arts Majors and to launch them into the world as continuous self-directed learners," Dell said.
Computer Science also provides a career course, Careers in Computer Science, to help students majoring in computer science with career planning. The course brings in computer scientists from various companies and upper level students to talk about internship and research opportunities and interview preparation skills.
"Most of our students are going to go for jobs right after undergrad," said Soma Chaudhuri, associate professor of computer science, who teaches the course. "It's hard to get an internship unless you have had one already, so it's important that you start early."
Chemistry offers a course called Cutting Edge Chemistry: Research and Career Opportunities. Building upon the foundations of the learning community, this course is designed to get students to start to think about their post-graduation plans.
The course is team taught by Levi Stanley, associate professor in chemistry; Aaron Sadow, professor of chemistry; Joe Burnett, senior lecturer in chemistry; and Terry Kruse, academic adviser in chemistry.
"We want students to be able to connect with the stories," Burnett said. "We really want the faculty to come in and talk about their career paths, the decisions that they made and to talk about their current research interests."
The course also brings in scientists from industry settings, career consultants from the American Chemical Society and students who have had research or internship experiences and includes fields trips to nearby businesses that employ chemists such as Ames' water treatment plant, Hach Chemical, or a student favorite – the state crime lab in Ankeny.
"Chem 110 was very useful for career planning because we heard a variety of speakers who all took different career paths," said Matthew Ryan ('20 chemistry). "This made me realize that for a field such as chemistry, there are endless career options to explore and consider."
LAS Career Services course helps students sell their skills
In addition to departmental level courses, a brand-new course offered by LAS Career Services this fall will hone in on the self-branding skills students need to land a job or get accepted into graduate school after graduation.
The course, Professional Career Preparation, was created based on feedback from graduates of the college. In a survey filled out by recent graduates, a top comment was a wish for a course that covered resumes, considering job offers and all things career preparation related.
"It doesn't matter what major you are, you have to be able to sell yourself," said Taren Crow, director of LAS Career Services. "You have to be able to articulate your skills and your experiences. This pulls all of that together — helps them figure out what those things are and how to talk articulate that confidently."
Beyond resumes, cover letters, professional skills and evaluating a job offer, the course will offer unique interview training through improv sessions with ISU theater professors.
"The hope is to get students comfortable with being uncomfortable with different uncertain situations," said Angela Wagner, career education coordinator with LAS Career Services and course instructor. "When you go in an interview, you're going to be asked things on the fly and you're going to have to respond appropriately."
Undergraduate assistants will help with the administration and teaching of the course as teaching assistants. The positions are paid through a grant from John Deere. These students will be able to share their own leadership and internship experiences and serve as an extra resource.
"These are things you should be doing anyway to be successful in your future career," Wagner said. "You can come to the class and you'll be set up for success."
Published: August 27, 2018