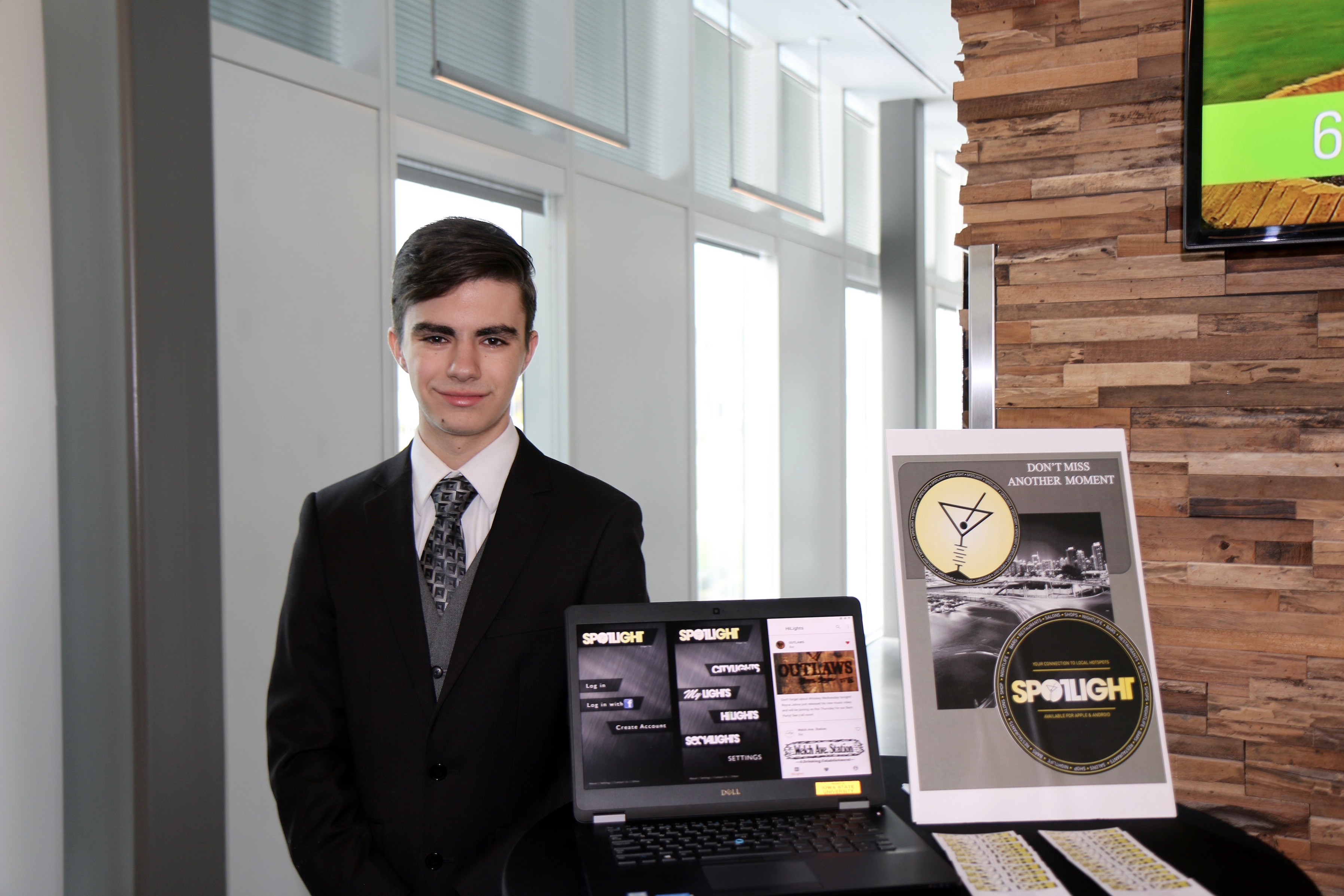 This coming spring, Jack Nichols hopes his new app Spotlight will help people visiting Campustown give small businesses a boost. Thanks to his recent participation in the Cystarters program, he can now envision his project as a reality.
"I never saw us getting this far. The Cystarters program has shown me this is something you can do. It's a real possibility that I create something that other people can use."
Nichols ('21 political science, pre-business) recently completed CYstarters, an intense 10-week summer accelerator program for Iowa State students or recent graduates to focus on their startup or business idea. The College of Liberal Arts and Sciences helped fund Nichols' stipend for the full-time program.
Nichols shared the idea for Spotlight at the LAS Pitch Off in February of 2018. Part of the first ever pitch off taking place in all seven ISU colleges, it was Nichols' first experience with entrepreneurship at Iowa State. He won and advanced to the ISU Innovation Pitch Off, sponsored by the ISU Pappajohn Center for Entrepreneurship.
Spotlight aims to help people connect with their community via small local businesses, Nichols said. Through geo-tracking and geofencing, users will be able to see special deals from local businesses. Businesses can send users push notifications from the app or through a text — all while gaining access to more targeted and competitive advertising pricing and consumer analytics.
Nichols developed the idea in partnership with LAS alumnus Jon Jansen ('13 political science), a Drake Law School graduate who shares Nichols' enthusiasm for entrepreneurship.
"We wanted to focus on building the community up, and since we believe these small local businesses are key to the community and Campustown, we wanted to provide them with a service they can use to connect to customers and vice versa," Nichols said.
CYstarters helped Nichols strengthen his idea this summer through workshops on core entrepreneurial skills such as financial modeling, market research, customer discovery and more. He filled in the rest of the day meeting with mentors or interviewing local business owners. He remembers one meeting with a Des Moines bar manager, who validated the need for Spotlight.
"We asked questions about their advertising needs, and the answers she gave us were the perfect answers. We couldn't have scripted them better. She was very enthusiastic for Spotlight and interested for when it comes out."
Nichols came to Iowa State with a strong interest in law school. But after winning the LAS Pitch Off, he added a double major in business to see where the combination may take him.
"The skill sets derived from each major complement each other. While I'll be able to learn business from the business major, analytical and problem-solving skills from political science will also help me in the real world."
Nichols plans for a closed beta test of Spotlight on Welch Avenue in Ames in Spring 2019, followed by further testing in Des Moines.
"I really want to continue with entrepreneurship at Iowa State. Hopefully Spotlight will launch and take off, but I definitely want to work on more projects while I'm here. The resources that I've been offered are something I never pictured I'd have."
Published: August 3, 2018