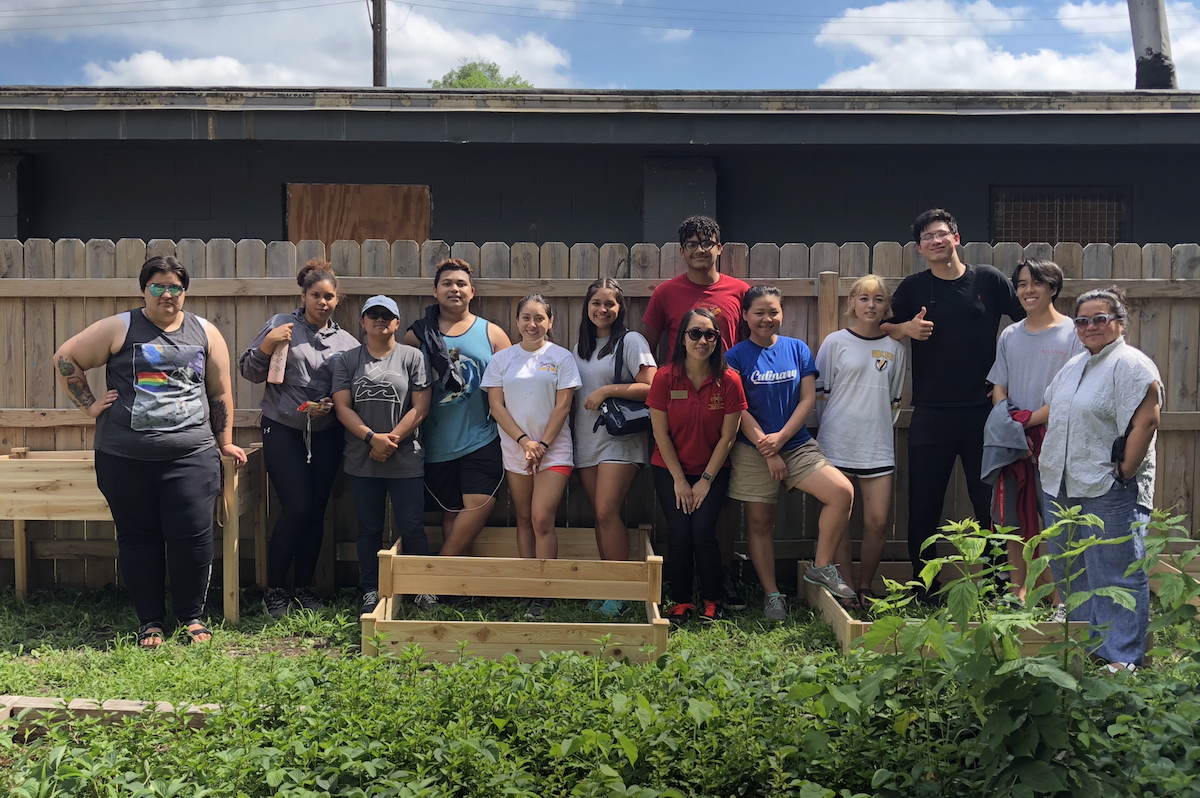 On Wednesday, June 27 Iowa State University's Multicultural Liaison Officers (MLOs) led more than fifty students in the Academic Program for Excellence (APEX) on four different service-learning projects in Ames and Des Moines. Sixteen students from the College of Liberal Arts and Sciences (LAS) participated.
APEX is an eight-week academic summer program to support incoming multicultural first-year students' transition to Iowa State University prior to their first semester.
Students chose between serving the Monsoon Asians & Pacific Islanders in Solidarity based in Des Moines, Project Linus in Central Iowa, The Overflow Thrift Store in Ames, and Children and Family Urban Ministries in Des Moines.
MLOs helped the students to consider why these nonprofit organizations exist, what needs are being met and how their major might relate.
"As College Multicultural Liaison Officers, our goal is to provide students with skills that will help them become critical thinkers and responsible professionals in their fields," said Der Vang, LAS multicultural liaison officer. "In the three years that we have completed the service-learning projects, I have seen our scholars become aware of the social impact they can make."
Giving through the gift of clothing
The Overflow Thrift Store is a non-profit thrift store in Ames. Profits from donated items are given to orphans, widows and others in need through various supported ministries. APEX students helped organize clothing donations and used their creativity to repurpose items for another's use.
Project Linus, a non-profit organization, provides new, handmade blankets and afghans to children who are seriously ill, traumatized or otherwise in need. APEX students created fleece tied blankets as a gift of warmth, comfort and security to children in need through the organization.
Sarah Velazquez ('22 genetics) has been making tie blankets for several years. After finishing two blankets she helped others finish theirs.
"I learned a lot about all the people there and we discussed why we wanted to help the community," Velazquez said. "Knowing a ton of kids are going to get soft new blankets is really amazing."
Cindy Delgado ('22 biology) also helped with Project Linus because their mission of helping children is something she plans to do in her future career. The experience also helped her to get to know other students in the program.
"This experience was a bonding experience and an ice breaker to get to know others in APEX by being in smaller groups," she said. "Definitely an eye opener for different organizations that I can take part of and learn more about."
Reaching out to the community
Monsoon Asians & Pacific Islanders in Solidarity serves survivors of domestic violence and sexual assault in Asian and Pacific Islander communities in Iowa through direct services, community outreach and education, violence prevention and technical assistance. APEX students helped with projects at transition housing locations including gardening and cleaning.
Children and Family Urban Ministries (CFUM) creates a community that supports children, youth and families through educational success, healthy living and community engagement. APEX students spent time with youth in a summer program through CFUM working on arts and crafts.
Kaitlyn Orear ('22 psychology) wants to specialize in working with children. She chose to serve at CFUM to see and interact with children who are learning and developing. The experience helped her not only learn more about her career path but also gave her more confidence in Iowa State.
"Knowing that Iowa State participates in service projects is so satisfying," she said. "Also knowing that we are trying to help and give back to our community shows that Iowa State has great values and morals that we want to show to everyone else."
Gilmarie Gutierrez ('22 communication studies) also chose to serve with CFUM.
"This is what I love, human interaction and communication with people," she said. "This experience makes me think that Iowa State can be a place that I want to be at for my studies. If I feel that I can make a difference in other's lives positively, then I will likely be joining clubs and doing service works that can benefit throughout the region but also worldwide."
Published: July 12, 2018