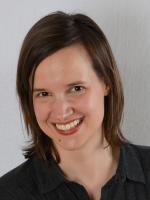 Finding Amelia, a play written by Amanda Petefish-Schrag, assistant professor of theatre, will be performed at the award-winning Union Theatre in Southward, London on July 1 as a part of Tiny Shorts, an event that will be the official launch of the theatre's Eagle & Beaver Ensemble.
The plays were commissioned under the themes of "independence" and "freedom" to coincide with Canada Day (July 1) and Independence Day on July 4. Over 100 playwrights submitted entries, and eight plays were selected.
Petefish-Schrag's play follows Nancy as she throws logic to the wind and gathers her friends to create an unlikely national holiday. Relationships are tested and unexpected discoveries abound.
Petefish-Schrag teaches courses in performance and theatre history at Iowa State. Her professional credits include work as a puppeteer, playwright, director and actor. Her playwriting has been produced at theaters and festivals in Chicago, New York, Los Angeles, Kansas City, Minneapolis, Milwaukee and Iowa City, and has been published by Playscripts, Inc. Amanda is a member of the Dramatists Guild.
During ISU Theatre's 2018/2019 season, Amanda will direct This is Not a Pipe Dream and coordinate the devised production Iowa Odyssey (or How We Got Here) in collaboration with ISU students and community members.
Published: June 22, 2018