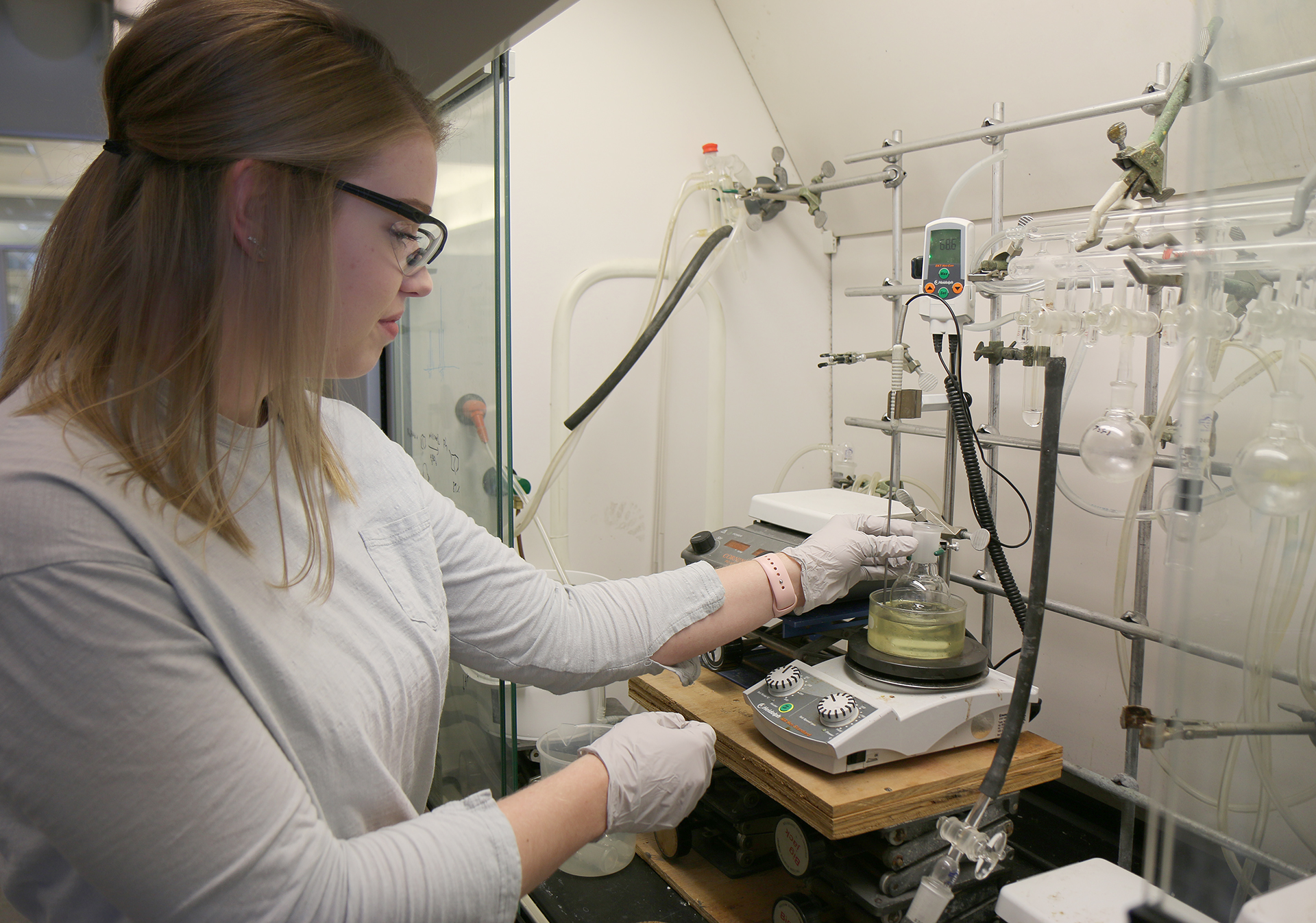 When Grace Lutovsky ('18 chemistry) came to Iowa State as a chemistry major, the only career option she was sure she wasn't interested in was research — until she was introduced to medicinal chemistry. Now she's headed to graduate school to pursue chemistry research and has received an honorable mention for a graduate research fellowship from the National Science Foundation (NSF).
"I explored about every single possibility there is out there my freshman year," she said. "The only certainty was that I was not going into research — but that's what I want to do now."
She was convinced research was filled with people who only focused on lab work rather than collaboration. But since it was recommended, she explored research opportunities anyway and was happily surprised to be wrong.
"I've seen in multiple internships and in the research lab that I work in now, it's completely the opposite," she said.
While exploring what area to pursue, Lutovsky did research on catalysts and spent the summer working as an intern for a biodiesel company. It was interesting, but not her passion. Then, during her sophomore year, a special lecture in her organic chemistry class sparked her interest in medicinal chemistry and inspired her to apply for internships with pharmaceutical companies and get involved in research again.
"I didn't think that one lecture would change my whole path, but it did," she said.
Since her junior year she has been actively researching with Levi Stanley, assistant professor in chemistry. One of their projects included working on a reaction to change the composition of a steroid, which could potentially lead to a new class of drug molecules.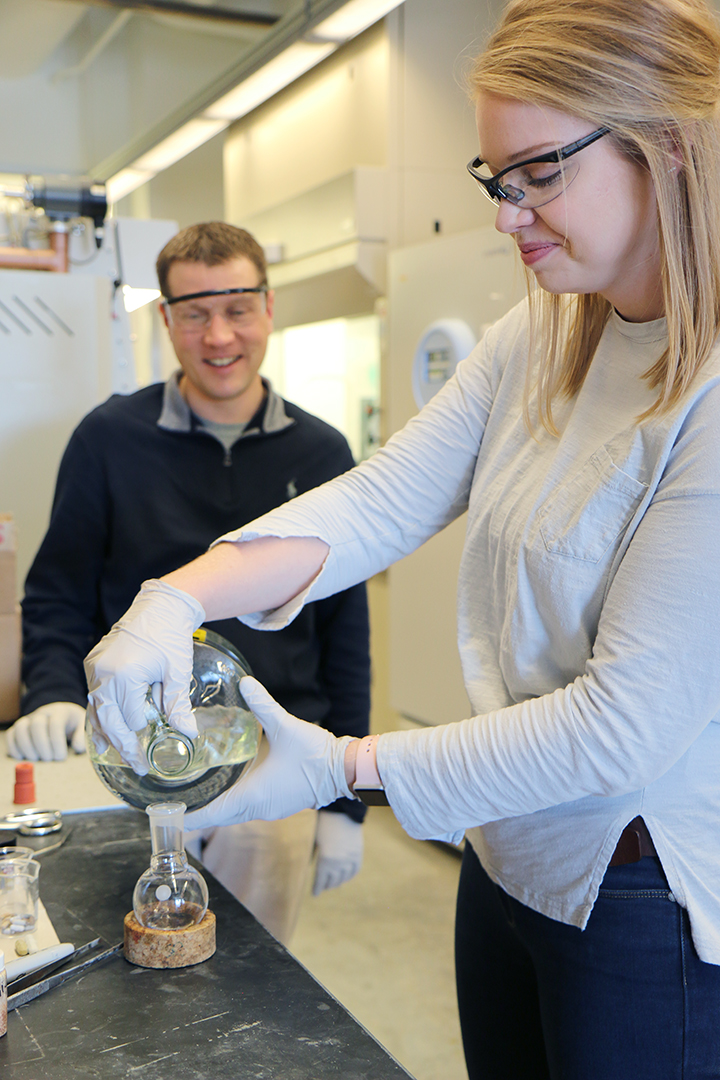 "I have been extremely impressed with Grace's research contributions to her first project in my laboratory, and I am even more excited about Grace's potential as a young scientist based on her early work on a new project," Stanley said. "Her contributions to the generation of new scientific knowledge through her undergraduate research activities have been phenomenal."
Stanley helped direct her application for the NSF graduate research fellowship, for which she received honorable mention. For the application, she had to write a research proposal, a new experience for her and a process she recommends to any chemistry student.
"I didn't know how to come up with a new idea – where do you find that? Where do you spark a new idea?" she said. "In the chemistry department you don't have a project [writing a research proposal], it's not in your curriculum, but I think it's very valuable."
Stanley helped her find a known compound that had not been made synthetically that she could create a plan for synthesizing. Then she evaluated the bonds to plan for a synthesis process while trying to also incorporate new methodology. Writing up the plan in a scientific manner was also a valuable learning experience, she said.
"I challenged Grace to identify her own proposal topic and develop her own synthetic route with my role as a sounding board to assess the feasibility of her overall approach," Stanley said. "I am very proud of the proposal Grace developed as it leverages modern synthetic chemistry, beyond the scope of the undergraduate chemistry curriculum at Iowa State University, to a viable route to a complex molecule with medicinal potential."
Lutovsky also gained more laboratory experience through several summer internships.
She spent one summer interning for Pfizer in the process analytical science group. She worked with a scientist who was developing instruments to measure water quality directly in order to avoid the current lag time and potential wasted samples if water quality is determined to be below standards after testing several days earlier.
Another summer she interned with Zoetis, an animal health company. When she finished early her project testing how various drugs metabolize, she explored the process chemistry division, which works on perfecting the process of making drug compounds. She helped investigate the effect of potential operator errors in order to create a comprehensive plan for a new drug development method.
This summer, before heading to graduate school in chemistry, she will work with Merck in their process division, the area of medicinal chemistry she now wants to pursue.
She's also attended two conferences, one of which she presented her research through a poster presentation. Sharing her work and connecting with other scientists with similar interests made the experience rewarding, she said.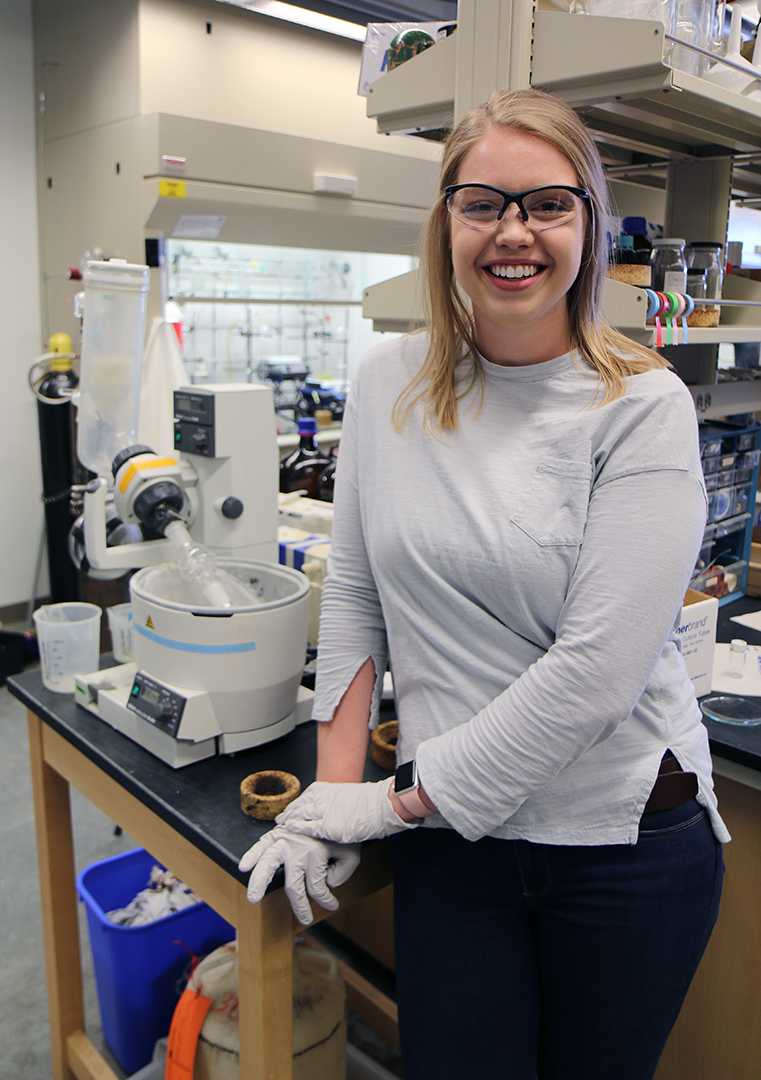 "It's really cool to have different experiences," she said. "People like talking about chemistry and themselves and what they do so they're always really open to help you if you're interested in what they're doing."
Just like those who have helped her along the way, she is already investing in younger students. She works as a TA in chemistry and shares her interest in all STEM (science, technology, engineering and math) areas with K-12 students as a student role model in Women in Science and Engineering (WiSE). Through WiSE, she has visited many schools across Iowa to do STEM activities with kids of all ages.
"I just like to share with people," she said. "Being involved with Women in Science and Engineering helps you excel and take advantage of everything that's going on around here, because there's so much, but until you step out and get involved you hide from it, I guess."
Lutovsky's involvement led her to a career path she never would have expected. But through the experience and support she found at Iowa State she is now excelling at her passion.
Published: April 30, 2018