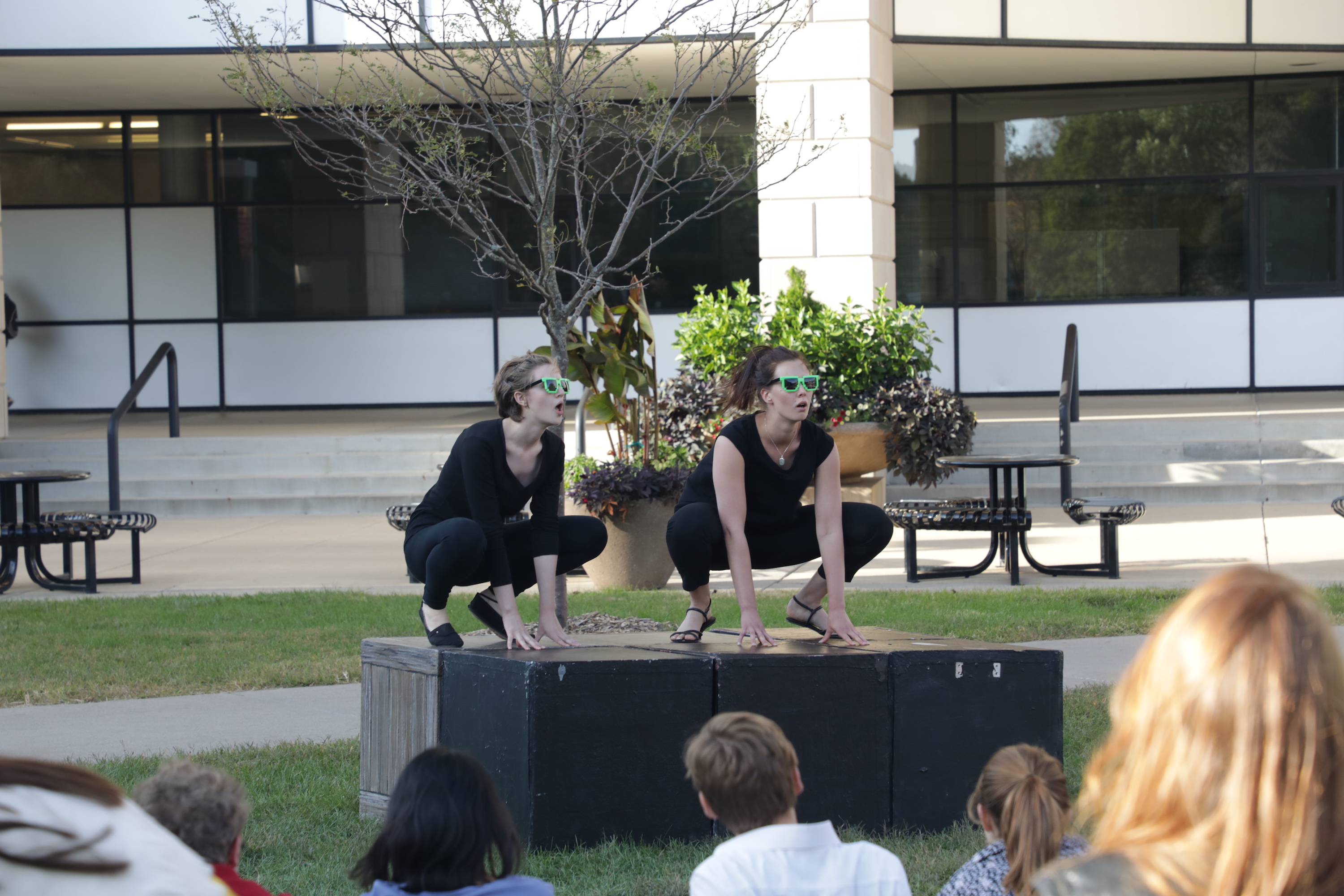 Iowa State joined an international conversation on climate change through the storytelling of theatre, thanks to the efforts of Vivian Cook and Charissa Menefee in the College of Liberal Arts and Sciences.
Cook ('17 performing arts and French) directed Climate Change Theatre Action, a two-act production of plays on climate change. Menefee, an associate professor of English, served as producer.
The project was one of the earliest productions in the Climate Change Theatre Action, a worldwide series of readings and performances of short climate change plays presented October 1—November 18 to support the United Nations Climate Change Conference.
"The purpose of these short plays is to initiate conversation about climate change, which is only the first step," Cook said. "The next step is to pair the performances with an additional opportunity for people to learn about climate change and, hopefully, to take action within their own communities to address sustainability issues."
During the production's intermission, sustainability organizations from Iowa State and the Ames community talked to audience members about what they're doing to address sustainability issues in the community and how to get involved.
"People hear about climate change, but they don't know what they can do personally," Menefee said. "These performances and social actions reach out to people to say, here's how you can help locally, nationally, internationally."
Cook chose the plays from a set of 50 that the Climate Change Theatre Action commissioned from playwrights around the world. She selected a variety of styles of pieces, from large ensembles and choral pieces asking what people are doing to our world and what our impact is, to realistic or humorous pieces, including one featuring two frogs discussing the pollution in their pond.
The plays covered issues such as pollution, invasive species, warming and rising of the oceans and fake news or misuse of scientific information. She also arranged the pieces to move the audience from awareness to hopeful action and bring out the focus of people working together.
"You never know who then will think more about it, read more about it, try to find out what's going on, create some action of their own or join another group that's trying to do good in the world," Menefee said. "That's our hope for this."
The show held two full performances, one on the Parks Library Lawn and another in the Ames Public Library. Partners with the project included the MFA Program in Creative Writing & Environment, the Ames Public Library, the ISU Office of Sustainability and ISU Theatre. The cast and crew were made up of undergraduate and graduate students across campus as well as an alum and a few community members. Many were not performing arts majors but were brought together by a shared interest in the topic.
"Our hope is to raise awareness not only about climate change but also that arts and science are not separate things," Menefee said. "We all have to work together to tell the important stories of our times."
Sustainability Resource Fair Representatives at Climate Change Theatre Action included:
Bioeconomy Institute
Climate Reality Campus Corps: ISU
Connie Mutel (Author)
Environmental Education Club
Greeks Go Green!
Green Umbrella
Iowa Conservation Education Coalition
ISU Herbarium
reACT Gallery
Reiman Gardens
Sankalp
Story County Conservation
Sustainable Agriculture Student Association
Wake Up
Wheatsfield
Wind Energy Science, Engineering, and Policy
Published: October 10, 2017