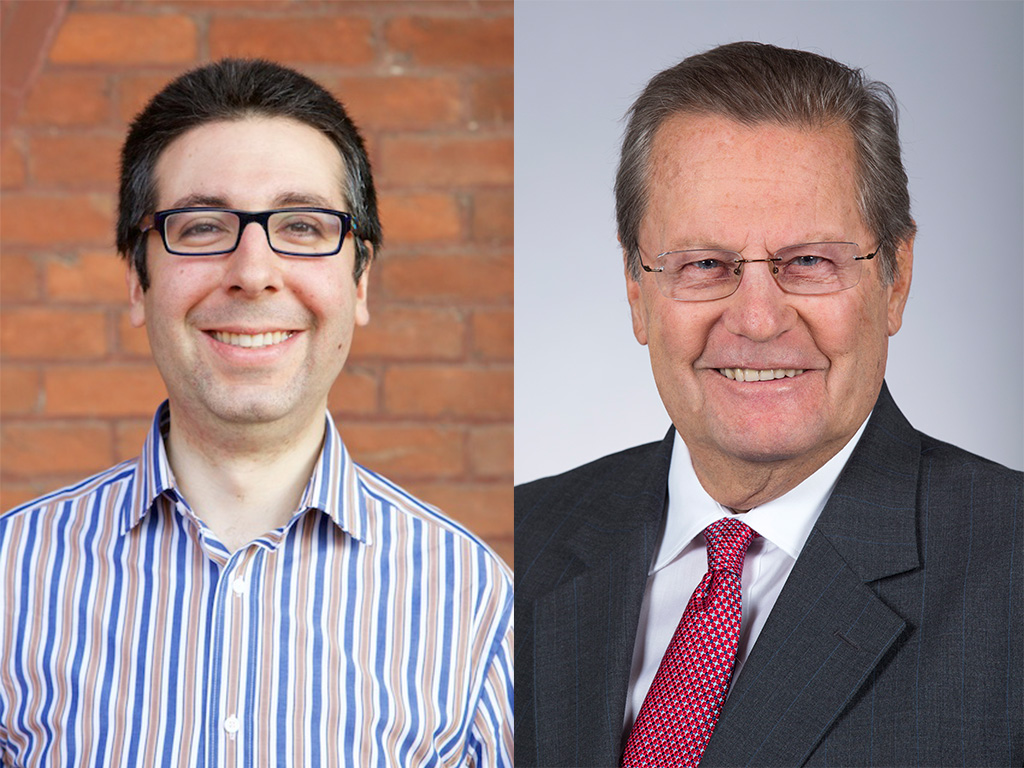 Two faculty members, Jonathan Hassid and Steffen Schmidt, in the College of Liberal Arts and Sciences have received new awards through a generous donation by Kent A. Lucken ('86 political science).
"As a proud graduate of the ISU Political Science Department, I'm honored to support professors Schmidt and Hassid with these awards that will allow them to further their respective outstanding research and teaching on American Government and Politics, and China," Lucken said.
Jonathan Hassid receives Lucken Faculty Fellowship
Hassid, assistant professor of political science, has received the Lucken Faculty Fellowship, established to support a faculty member who is advancing students' understanding and appreciation for China and its expanding role in shaping international affairs and the global economy.
Funds from the award may be used to support research as well as advance opportunities for students to expand their understanding of China's global role such as classroom education, educational programming, lectures, discussion groups and other opportunities.
"As the Chairman of the US-Asia Institute in Washington, DC, I have a keen interest in China, its impact on the global economy and international system," Lucken said. "I'm delighted Professor Hassid will be supported in his research on important Chinese political and international issues."
Hassid is a China specialist, with research interests mainly around the politics of the Chinese news media and ways to measure symbolic power around the world. He has published articles in Comparative Political Studies, China Quarterly, the Journal of Communication, Journalism, and elsewhere.
He joined Iowa State University in 2015 after graduating with his Ph.D. in political science from the University of California, Berkeley and then spending four years as a doctoral fellow in the China Research Centre at the University of Technology in Sydney. He received an Early Career Researcher Award in 2013, was named a China Cultural Times Foundation Young Scholar in 2009 and was awarded a US Government Fulbright-Hays Doctoral Dissertation Research Abroad Fellowship in 2008.
"I'm delighted and humbled to receive this generous award, which will help me expand my research into China's political system and help provide outreach to the Iowa State University community," Hassid said. "In particular, I plan to use the award to hire research assistants, travel for fieldwork to China, bring in outside speakers on contemporary Chinese issues, and organize an academic conference on new issues in Chinese politics."
Steffen Schmidt receives Lucken Professorship in Political Science
Schmidt, University Professor of political science, has received the Lucken Professorship in Political Science, established to reward faculty in the Department of Political Science who demonstrate excellence in teaching, research and service.
"Professor Schmidt's teaching, writing and career advice deeply impacted my studies and professional career, and I'm thrilled he has been selected as the inaugural recipient of the Lucken Professorship," Lucken said.
Schmidt has researched comparative politics and women in politics with special emphasis on Latin America and developing countries. He teaches Introduction to American Government and Politics, Latin American Politics, and other courses. He has served on the University Lectures Committee since its founding as well as chairing the International Program in the College of Liberal Arts and Sciences. He has also served the State of Iowa as Chair of the Governor's Spanish Speaking Commission.
Schmidt has received numerous awards for his teaching and service including the "Innovator of the Year" award from the Iowa Distance Learning Association in 2007, the Iowa State University Alumni Association Impact Award in 2004, the Jerry Shakeshaft Master Teacher Award endowment from the College of Liberal Arts and Sciences in 2001 and many more.
He has also been chosen to speak as the William J. Clinton Distinguished Lecturer at The University of Arkansas Clinton School of Public Service in 2016 and was the Iowa State University Presidential Lecturer in the fall of 2007.
"I am very honored and excited to be the first Lucken Endowed Professor," Schmidt said. "It will provide me with time and resources to expand some projects which have been on the back burner."
Those projects include a new book manuscript, research into perceptions of American politics by Chinese students, interviewing and shooting video for a new course on the Iowa presidential caucuses, and more.
Published: October 4, 2017