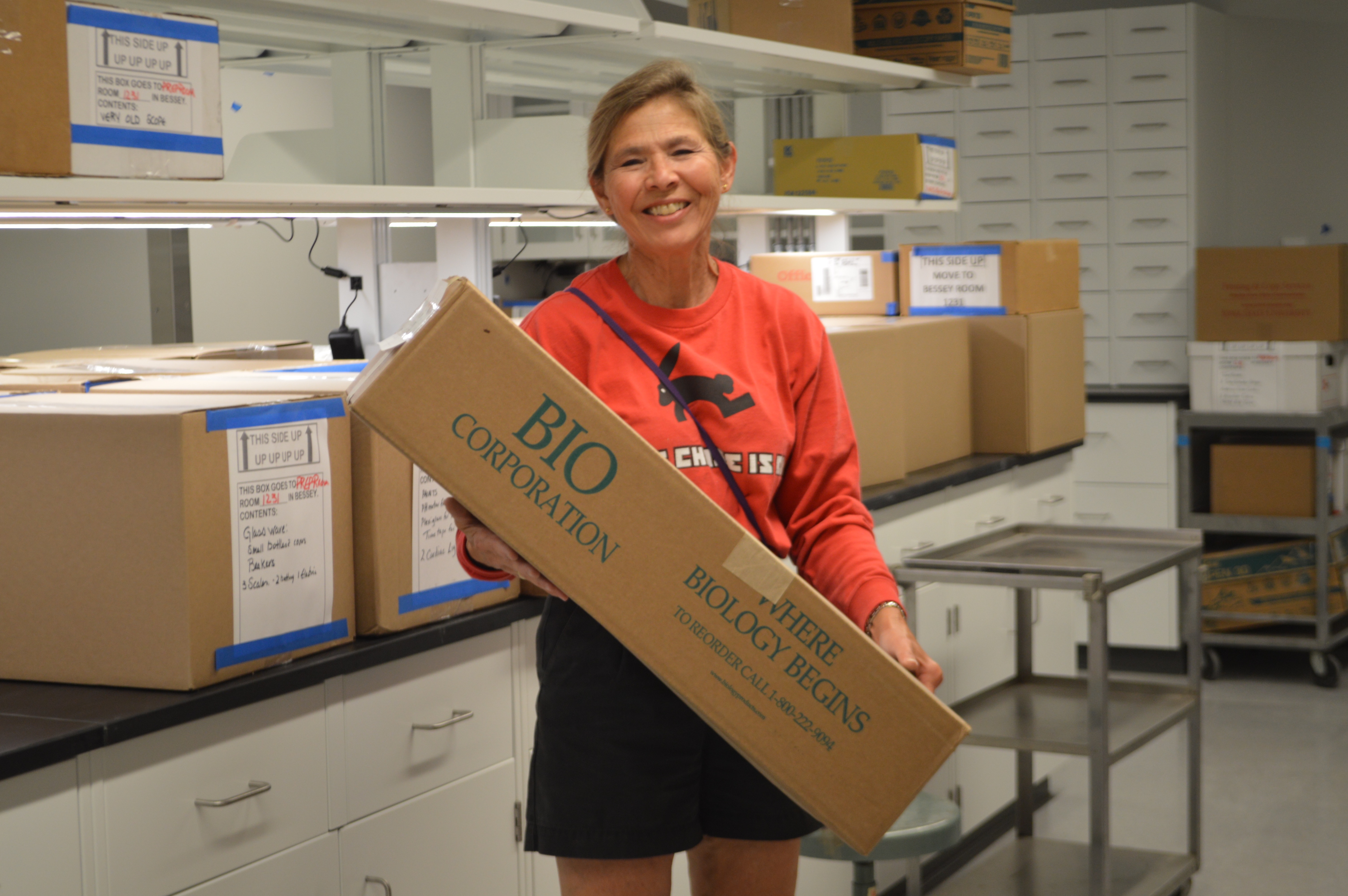 New lab space in Bessey Hall is a breath of fresh air to students, faculty and staff in the Departments of Ecology, Evolution, and Organismal Biology (EEOB) and Genetics, Development, and Cell Biology (GDCB).
As Iowa State's enrollment has grown more than 40% over the last ten years, so has the need for biology and genetics lab space.
"Biology and genetics have both been healthy growing programs," said John Nason, professor and chair of the Department of Ecology, Evolution and Organismal Biology.
To accommodate the numbers of students taking biology courses, labs had been scheduled from 7 a.m. until 10 p.m. The new addition, with larger and more lab space, is easing this schedule back to 9 a.m. until 6 p.m. The new times have made a significant improvement for students balancing their course schedule, and for faculty providing instruction. The labs are also spacious and have table space accessible for students in wheelchairs. Windows allow in natural light, creating a cheerful work environment.
"Individual students sitting at benches have more elbow room and work space to put out textbooks and bring out microscopes and computers," said Chanda Skelton, teaching lab coordinator in Ecology, Evolution, and Organismal Biology.
Labs previously taught in Science II were able to move into eight new teaching labs on the first and second floor of the addition in Bessey Hall. These floors also house two new general university classrooms. Several genetics and biology classes that were previously spread across multiple buildings are now centralized in the new space.
Faculty and staff moved into the student labs on August 15, just days before classes started.
"It's bright; it's airy; it's conducive to student discussion," said Jo Anne Powell-Coffman, professor and chair of the Department of Genetics, Development, and Cell Biology. "It's space that will accommodate the continued development of courses over time."
The third floor of the addition is fitted with research lab space for faculty and lab support space, which includes a room capable of handling air-flow for ultra-cold freezers, needed for molecular work. The design also includes space for special cell culturing equipment. Faculty will move into this lab space in October.
"The new space provides state of the art wet and molecular lab facilities that will enable faculty in several fields to conduct cutting edge research," Nason said.
Two labs with closed spaces will be housed by Grace Wilkinson, assistant professor in EEOB who runs a water-monitoring program in the state of Iowa, and Steven Hall, assistant professor in EEOB who studies biogeochemistry.
Additionally, a shared lab space will house faculty conducting different types of molecular biology research. Moving into the shared lab space will be:
Amy Toth, associate professor in EEOB, researching gene expression in bees and wasps
Jeanne Serb, associate professor in EEOB, researching eye development in mollusks
Kevin Roe, associate professor in Natural Resource Ecology and Management, researching conservation genetics in fish and mollusks
Nicole Valenzuela, professor in EEOB, researching temperature and genetic based sex determination in turtles
Anne Bronikowski, professor in EEOB, researching the evolution of aging in garter snakes
Construction began in February 2016. The fourth floor remains empty at this time, ready for future needs. The addition is one of two biosciences projects totaling $80 million, approved by state Board of Regents and partially supported with state funds as well as private gifts and institutional funds.
Published: October 3, 2017