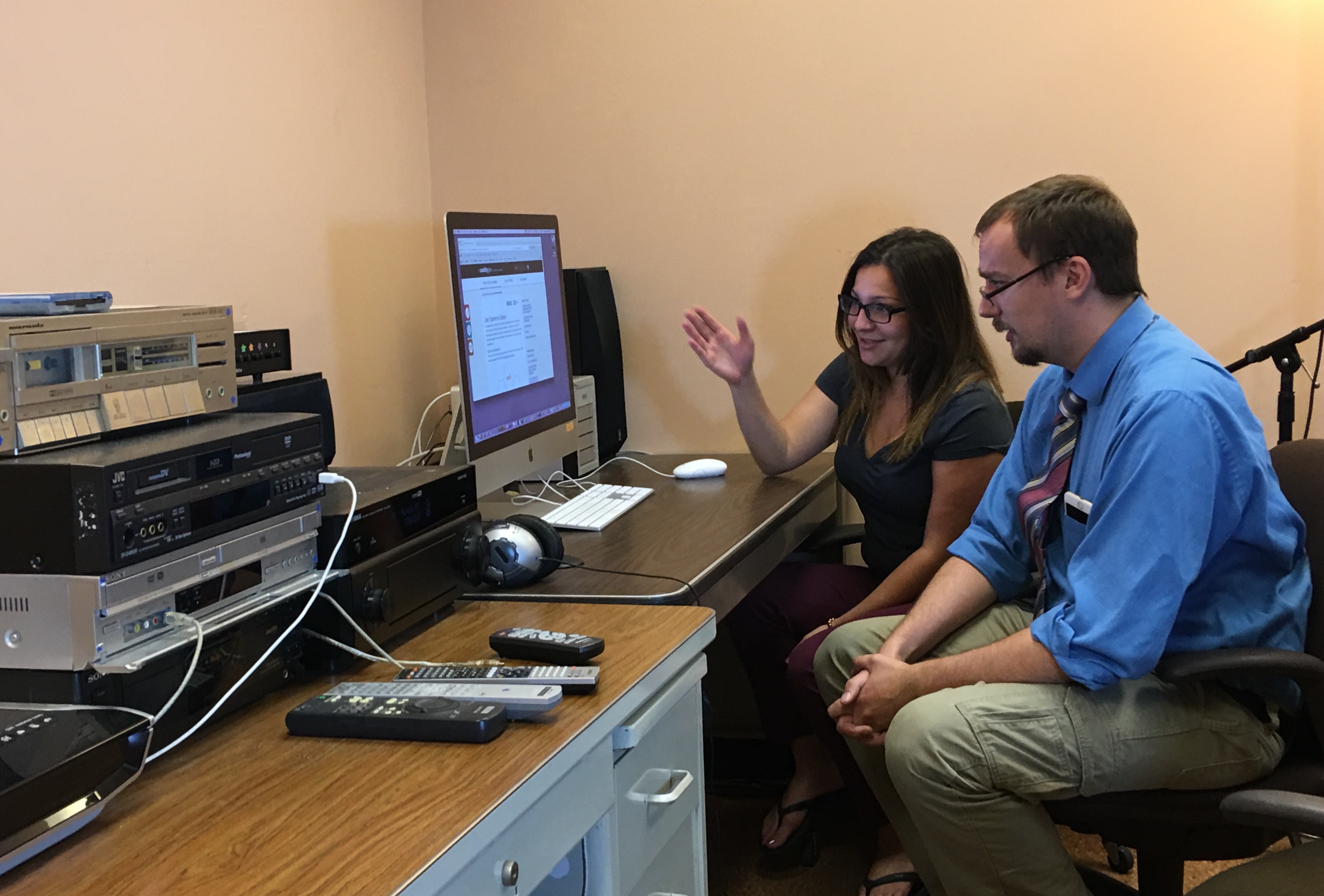 English departments have historically taught students to produce culture — from poetry, to novels, to short stories. But in the world of modern technology, media are changing. Geoff Sauer helps The College of Liberal Arts and Sciences' Department of English stay at the forefront of producing culture in the modern digital era.
"Today, if you're going to teach students to produce culture, they've got to be able to produce web culture," Sauer, an associate professor of English, said. "If that's where people are reading, then we need to teach our students how to write well to use these media."
To achieve this goal, Sauer created the New Media Studio in 2004 – a place where students could work collaboratively on new media projects.
Just what are "new media?" Definitions vary and are still being created, but Sauer says they're mainly about interactivity. "These are media that people interact with, rather than watching passively," he said.
The studio first opened in Carver Hall, later moving to Ross Hall. The current offices are designed for teams of five to eight people, has comfortable lighting and software for high-end multimedia production, including recently upgraded computers with the ability to edit ultra-high-definition 4K video.
"This is a small space, but it's designed to offer higher-end facilities than those we offer in entry-level classes," Sauer said. "It makes the department able to do things more professionally in lots of ways."
Among the many projects first developed in the Studio include successful university-wide systems such as ISUComm Courses, a system for managing communication-intensive courses taught across Iowa State University. The course platform is especially useful for courses with small seminars and many readings.
"We first built it thinking we'd host a few dozen courses, maybe a hundred," Sauer said. "It blossomed quickly to thousands of courses in lots of departments."
That system is now maintained by Engineering-LAS Online Learning (ELO), a joint venture between the College of Liberal Arts and Sciences and the College of Engineering to offer online degree programs, certificates and professional development opportunities.
The studio stays involved in the improvement of numerous web development ventures using advanced technology, such as integrating access to collaborative authoring systems into online courses.
"Encouraging graduate students to discover how to use new and emerging technologies to teach better is exactly the sort of work we should do at Iowa State," Sauer said.
Last semester, up to 65 people were in the New Media Studio at various times, working on projects ranging from writing improved texts for websites to putting together an interactive Blu-Ray of a student-authored and student-produced theater performance.
"When you see people around you doing interesting projects, it helps you be more productive and lets you think about doing more exciting and interesting things," Sauer said.
Published: October 2, 2017