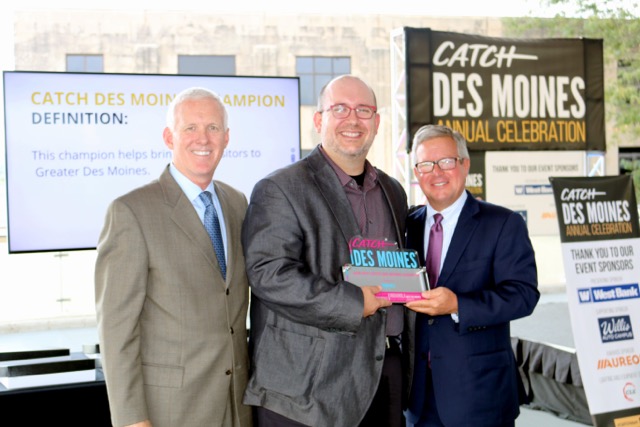 Brad Dell was honored for his contributions to the local economy and cultural vibrancy with the Catch Des Moines Champion Award from the Des Moines Convention and Visitor's Bureau.
Dell, associate professor of theater, received the award at the Catch Des Moines Annual Celebration last week, an event that celebrates the success and continued growth of the tourism and hospitality industry in the greater Des Moines area.
"I'm very honored," Dell said. "This award is an amazing tribute to the amazing people and organizations that I have been blessed to work with."
Dell received the award in recognition for bringing the Region 5 Kennedy Center American College Theatre Festival to Des Moines in 2017 and 2018.
The Kennedy Center American College Theater Festival (KCACTF) is a national theater program involving 20,000 students from colleges and universities nationwide annually. Dell serves as Chair of Region 5, comprising approximately 90 colleges and universities throughout Iowa, Minnesota, North Dakota, South Dakota, Nebraska, Kansas, and Missouri.
Each year in January the region brings together 1500 college students and faculty for a festival with workshops, competitions, and exhibitions in all aspects of theater as well as full feature productions. 2017 marked the first time the event was held at a city rather than a host school.
"One of my goals in life is to help to be a cultural catalyst and make connections that can foster local arts communities like the one in Des Moines," Dell said.
The Des Moines Convention and Visitor's Bureau, known as Catch Des Moines, served as the host and primary sponsor. Also partnering with the event in sponsorship and hosting workshops, competitions, and shows were the Des Moines Performing Arts at the Des Moines Civic Center, Hoyt Sherman Place, and the Des Moines Social Club.
"It was because of Brad's commitment and pride for Central Iowa and local theater that we were able to secure this event for two years," said Trina Flack, director of sales at Catch Des Moines. "With his vision we were able to create a unique experience where attendees could perform in first-class theaters and enjoy the arts and culture amenities that a vibrant downtown provides."
Dell sees theater as creating community – both among the company at work on the show as well as among the audience and between the audience and artist. Bringing the festival to Des Moines was a unique opportunity to build on the artistic community within the city.
"There's just something special about highlighting a city in a way that it doesn't typically get to be highlighted," Dell said. "This really allowed for the city's art scene to be highlighted in a pretty profound way."
Published: September 28, 2017