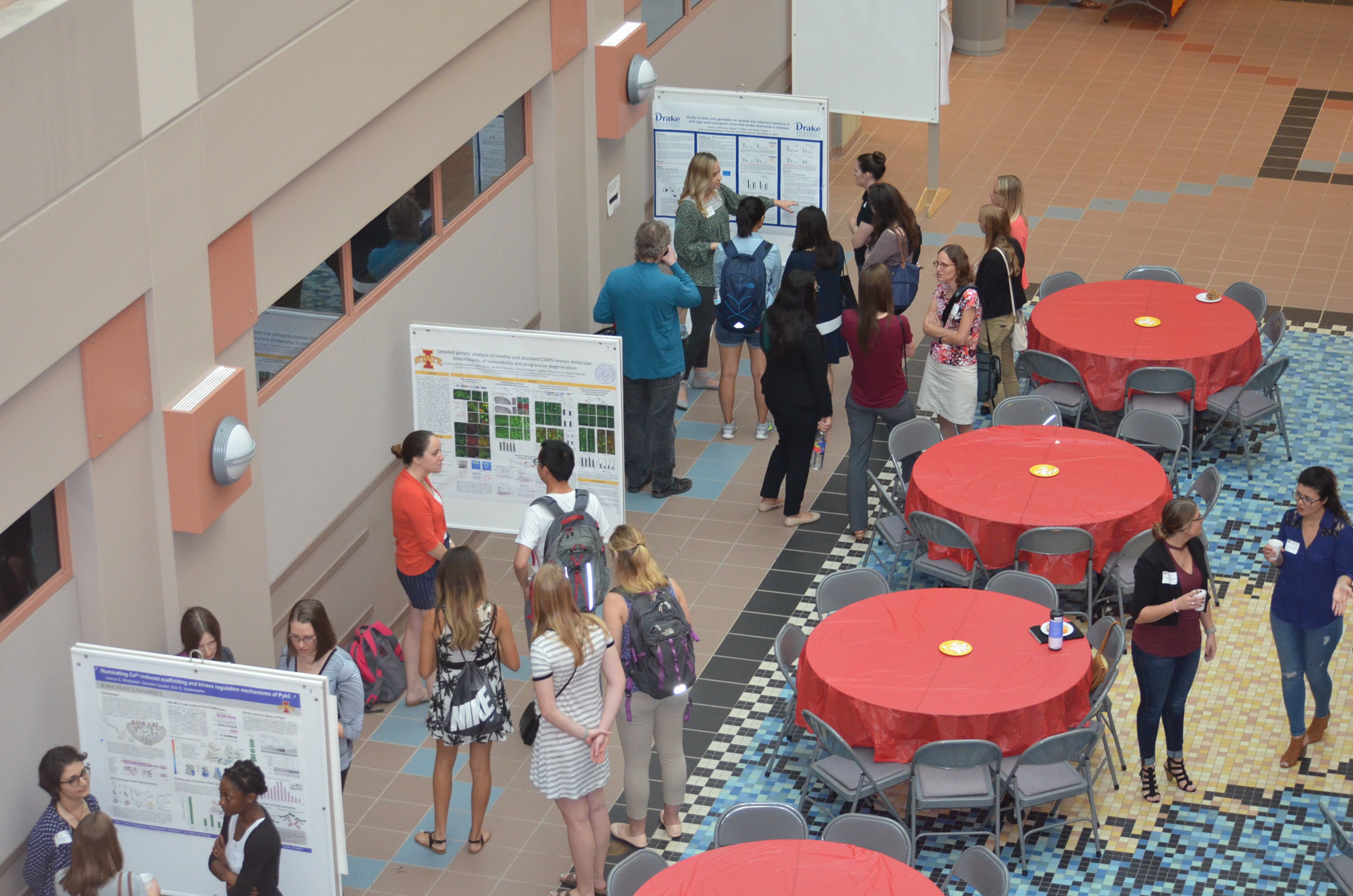 Neuroscience Research Day held its ninth annual event on Sept. 23, bringing together students and faculty from Iowa State University and surrounding schools in the Midwest to discuss topics related to neuroscience research.
Neuroscience is a shared interdepartmental graduate program at Iowa State University. Students in the program affiliated with the College of Liberal Arts and Sciences played a vital part in both planning and presenting the interdepartmental Neuroscience Research Day conference.
Lauren Laboissonniere ('18, Ph.D. neuroscience) got involved four years ago as a first year graduate student because she wanted to see the event grow. This year she served on the planning committee.
"This is a broad field and our graduate students are spread throughout the campus," she said. "We hope that Neuroscience Research Day allows researchers to not only learn about various research efforts but also allows scientists to form collaborations with others in the general area."
Laboissonniere presented a poster on research attempting to identify early molecular markers of amyotrophic lateral sclerosis (ALS) in rodent models. ALS, also known as Lou Gehrig's disease, is a nervous system disease of unknown cause that weakens muscles. She and the other researchers hope to build a foundation from which treatments for ALS may be developed further down the road.
Laboissonniere was also proud to have an undergraduate coworker, Courtney Smith ('18 genetics) give a talk on research using embryonic zebrafish to identify where (ALS)-linked genes are expressed in the fish.
"We plan to publish these findings soon so they may be used as a resource by other ALS investigators who rely on the zebrafish as their model organism," Laboissonniere said.
Smith is one of several undergraduates or early graduate students who have the opportunity to present at the conference. Bhavika Patel ('19, Ph.D. neuroscience) presented at the conference in her early years as a graduate student.
"Neuroscience Research Day was the first conference I presented at, which helped me develop better presentation skills for larger conferences," said Bhavika Patel ('19, Ph.D. neuroscience).
This year she served on the planning committee and presented a poster on how zebrafish can be used as a model system to study biomaterials, which are important in many therapeutic nervous system strategies such as drug and cell delivery.
Elizabeth Sandquist, a postdoctoral fellow in genetics, development, and cell biology, plans to one day lead her own research lab investigating brain repair. This was her second time as a presenter at the conference. She presented a poster on her research studying the use of stem cells for the regeneration of the visual system.
"It is a truly unique experience for networking with neuroscientists within the state of Iowa and beyond," she said.
Published: September 25, 2017