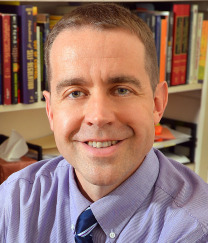 Iowa State University's College of Liberal Arts and Sciences will host a lecture titled "Severe 5%: Understanding the Criminal Justice System," presented by Dr. Matt DeLisi, professor of sociology, on Monday, Sept. 11, 2017 at 8:00 p.m. in the Iowa State Memorial Union Sun Room.
The lecture is part of the College of Liberal Arts and Sciences Dean's Lecture Series.
Decades of research from around the world have shown that roughly 5% of the criminal population is responsible for more than half of the incidence of crime, and this pathological group accounts for between 50 to 90% of the most violent crimes including murder, rape, kidnapping, and armed robbery.
Drawing on his research, clinical, and practitioner experiences working with the most pathological offenders, Professor Matt DeLisi will provide another framework for assessing the U.S. criminal justice system. He will explain why the system is mostly successful, providing treatment and supervision of individuals that are relatively amenable to rehabilitation. He will also explain why the putative "failures" of the justice system are not primarily the responsibility of law enforcement, judicial, and correctional staff, but instead are the result of a host of pathological conditions that render the severe 5% impervious to punishment.
DeLisi is coordinator of Criminal Justice Studies, professor in the Department of Sociology and faculty affiliate of the Center for the Study of Violence at Iowa State University. His primary research interests include criminal careers/career criminals, self-control theory, corrections, psychopathy and the molecular/behavioral genetics of antisocial behavior, and he is Fellow of the Academy of Criminal Justice Sciences.
Professor DeLisi has provided testimony to the United States Senate Judiciary Committee and consulted on criminal justice policy to a variety of federal stakeholders including the United States Attorney General, United States Probation and Pretrial Services, Federal Bureau of Investigation and others.
DeLisi's research has been featured in The New York Times, Time, Forbes, US News and World Report, Newsweek, Scientific American, Chronicle of Higher Education, Psychiatric News, Science Daily, Medical News Today, Science Codex, Washington Post and many other media and science outlets.
The lecture is free and open to the public.
Published: September 4, 2017