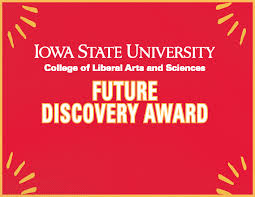 Iowa State University's College of Liberal Arts and Sciences presented 10 "Future Discovery Awards" to 4-H participants at the 2017 Iowa State Fair.
The Future Discovery Award is a $500 scholarship, which will be given to each student upon enrolling at ISU and pursuing a Liberal Arts and Sciences major.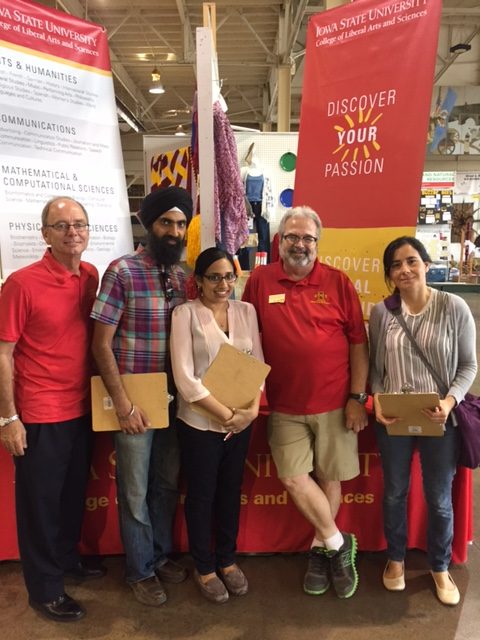 The scholarship was presented to 4-H youth whose State Fair exhibits exemplified "the innovation, curiosity, and scholarship foundational to a liberal arts and science education." The winning entries ranged from archived World War II correspondence and letters to anatomy drawing to the effects of antibiotics on skin growths.
Ranpal Dosanjh, assistant professor of philosophy and religious studies; Kent Kerby, adjunct associate professor of genetics, development and cell biology (GDCB) and assistant dean for academic student success in LAS; Flor Romero-De-Slowing, an academic adviser in the Department of World Languages and Cultures; and Geetu Tuteja, assistant professor in GDCB, served as judges for the college.
"I was impressed with the level of detail and thoroughness with which the students completed their projects, from the planning phase to presentation," Tuteja said.
Projects selected represent the five "academic interest" areas within the College of Liberal Arts and Sciences: arts and humanities, communications, mathematics and computational sciences, physical and life sciences and social sciences.
"This year's judges were particularly keen in selecting from the wide array of blue ribbon winners," Dan Rice, director of LAS recruitment services and the Discovery Award's organizer, said. "For example, Kent found a perfect representation of our Biological/Premedical Illustration (BPMI) major done by Liana Sweezer. We don't normally think of drawing as a part of a Liberal Arts and Science College major, but this illustrates the breadth of the college and the many ways students can discover their passion by simply doing what they love to do.
"The judges were again very impressed by all the innovation, knowledge and early development of so many young Iowa 4-H'ers. They certainly represent some of the top students and future college graduates in Iowa," he said.
Meet the 2017 Future Discovery Award recipients, who have earned a $500 Scholarship if they enroll at Iowa State in the College of Liberal Arts and Sciences:
---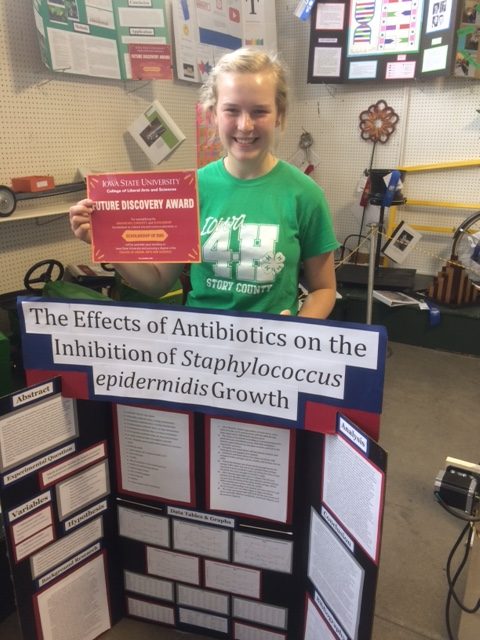 Cheryl Blackmer
Age: 14
Exhibit: "The Effects of Antibiotics on Inhibition of Staphylococcus Epidermis Growth"
Description: Thorough analysis and well defined question.
Area: Biology (physical and life sciences)
---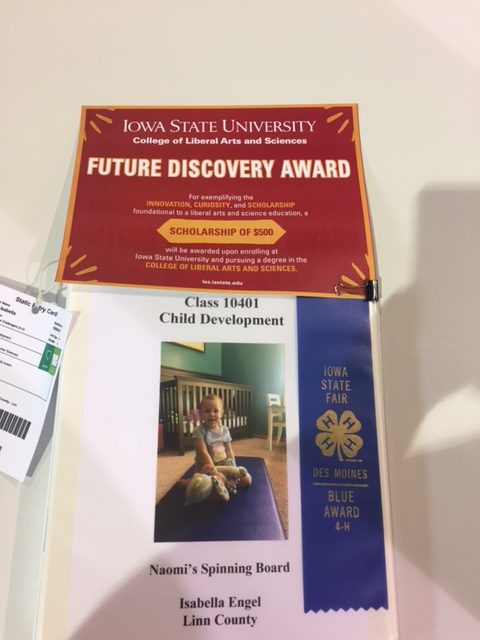 Isabella Engel
Age: 14
Exhibit: "Naomi's Spinning Board"
Description: Developed and documented research and building of a spinning board to help inner ear condition.
Area: Psychology, Communication Studies and Pre-Medicine (communications, social sciences)
---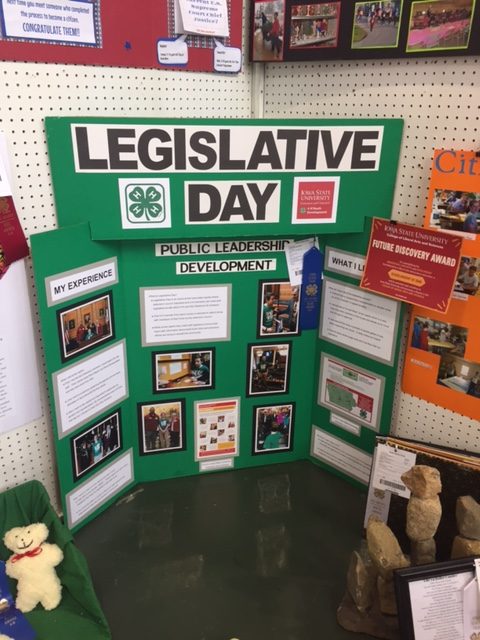 Zachary Harnden
Age: 13 (Second year recipient)
Exhibit: "Legislative Day"
Description: Documented lobbying for continued 4-H funding from State Legislature.
Area: Political Science (social sciences)
---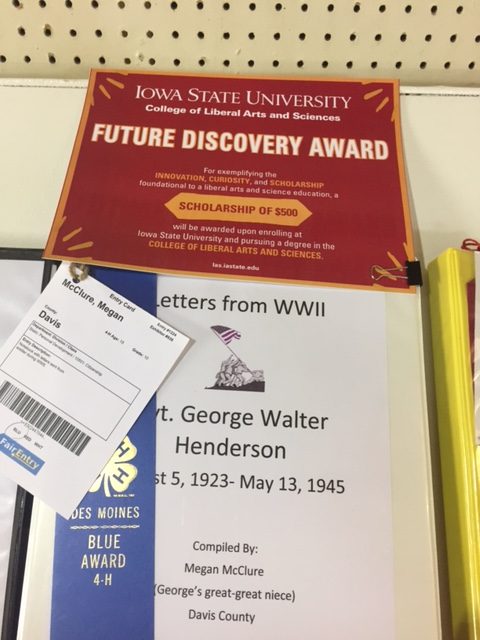 Megan McClure
Age: 15
Exhibit: "Letters from WWII Soldier"
Description: Well organized letters and communications from great grandfather during time of service.
Area: History (arts and humanities)
---
Delaney McMullen
Age: 14
Exhibit: "Large Group Speech"
Description: Researched various forms and audiences in large group speaking situations such as music, theater and improvisation.
Area: Speech Communication
---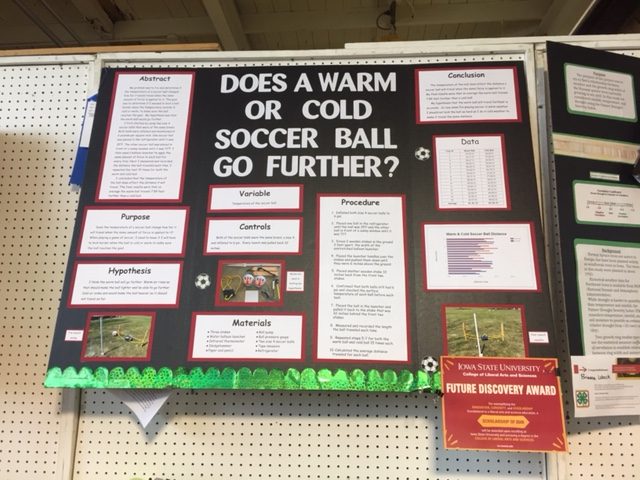 Emma Morey
Age: 12
Exhibit: "Does a Warm or Cold Soccer Ball Go Further?"
Description: Researched and tested distance based on temperature, and PSI from of soccer balls.
Area: Physics (physical and life sciences)
---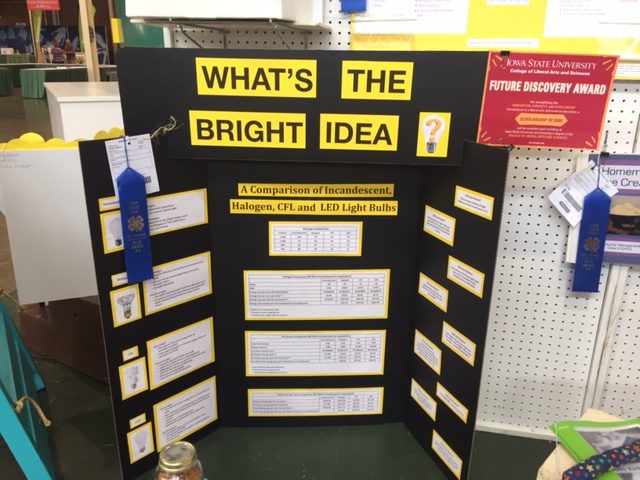 Nathan Smith
Age: 12
Exhibit: "What's the Bright Idea?"
Description: Researched and compared various Halogen, CFL and LED light bulbs in areas of price and cost to operate.
Area: Economics (social sciences)
---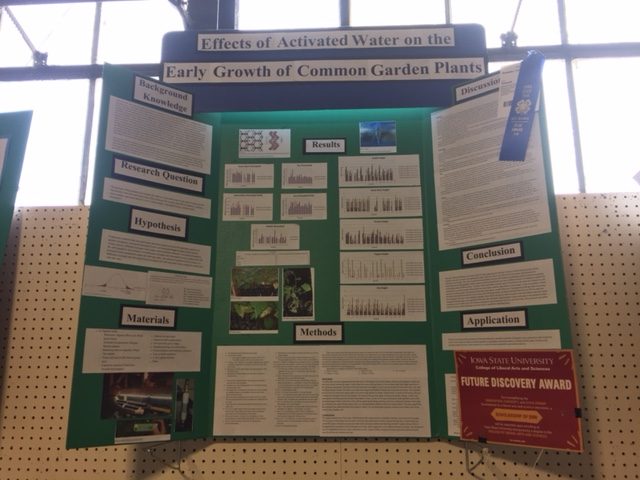 Laura Stowater
Age: 15
Exhibit: "The Effects of Activated Water on the Early Growth of Common Garden Plants"
Description: Researched effects of activated water on plant growth through meticulous record keeping.
Area: Biology and Statistics (mathematics and computational sciences, physical and life sciences)
---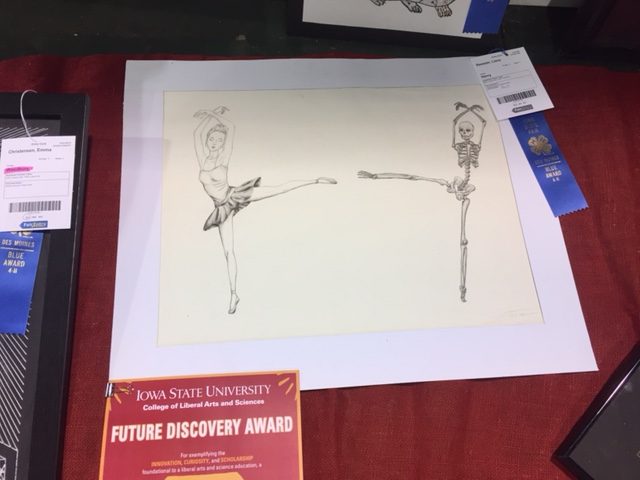 Liana Sweezer
Age: 15
Exhibit: "Ballerina and Skeleton" (drawing)
Description: Great representation of anatomy drawing and bones.
Area: Biological/Pre-Medical Illustration (BPMI) (physical and life sciences)
---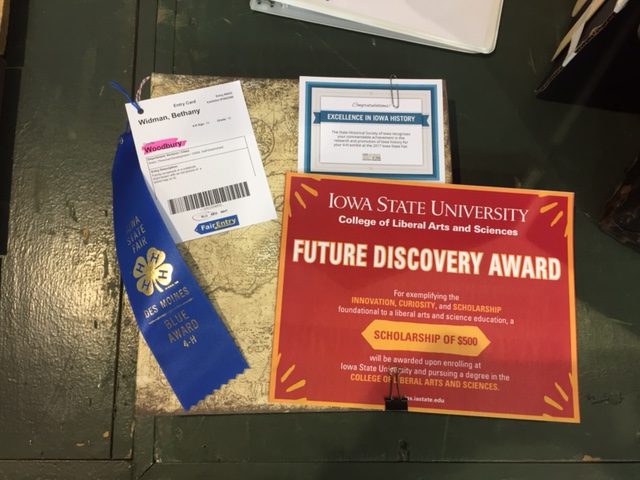 Bethany Widman
Age: 15
Exhibit: "Family Scrapebook"
Description: Detailed archival work. Accumulation and organization of primary source documents. Also received "Excellence in Iowa History" award from the State Historical Society.
Area: History (arts and humanities)
---
Published: August 23, 2017