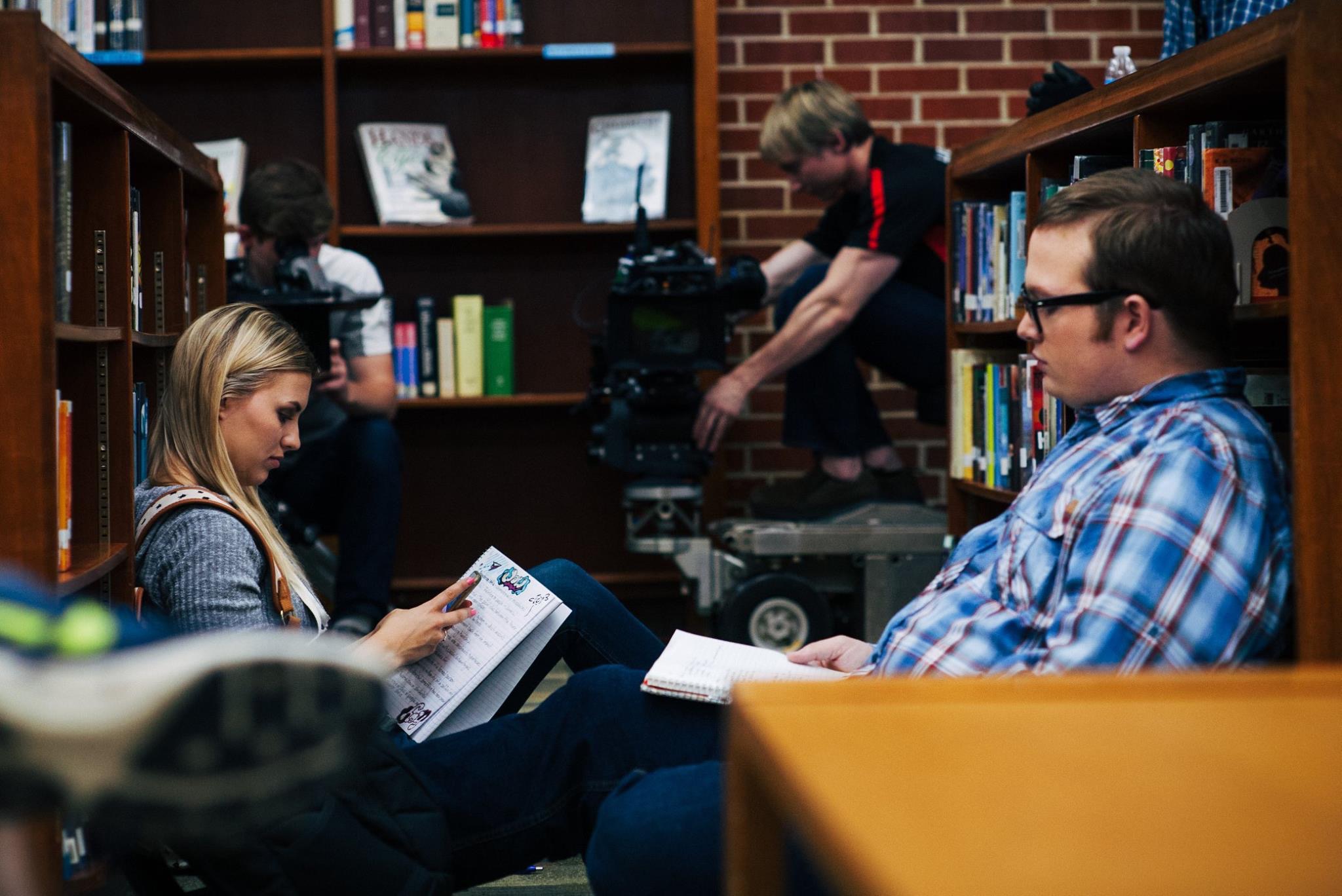 In only one year, Joseph Alan Smith ('16 performing arts) went from studying great actors at Iowa State to auditioning them for his very own show.
"An actor from NBC's This Is Us auditioned for a role [in my show], which is just crazy," he said. "The fact that people are responding to this material – I'm crying tears of joy. I'm so excited to be sharing this story with others beyond the cast and crew."
The show is Outed, a web TV series being filmed in Iowa with support from the Iowa Arts Council. While the idea behind the show was inspired by Smith's personal experiences in high school, it was timely advice during an ISU trip that gave him the motivation to write it.
"In 2014, I went to New York City with Iowa State Singers and the choral department," he said. "While there, I met with Adam Ben-David, associate music director of Broadway's The Book of Mormon. He gave me the single best piece of advice, which was to 'write for yourself.'"
Smith went to work. First, he used an Iowa State Focus Art Grant to write Holloway, a musical based on the real-life disappearance of teenager Natalee Holloway who vanished during a high school graduation trip to Aruba in 2005. Smith's show had its New York debut at Feinstein's/54 Below, a premier Broadway supper club.
Following Holloway, Smith penned something more personal, Outed. The web TV series, which just wrapped production on its first season, tells a modern coming of age story about two gay high school seniors whose closeted relationship is exposed to their peers.
Filmed in Iowa, the show has attracted award-winning talent to its cast.
"I recently cast Alice Ripley, Tony Award winner from the Pulitzer Prize winning musical Next to Normal," Smith said. "Thank goodness I don't have to act opposite of her yet. The fact that we studied Pulitzer Prize winning shows in musical theatre class and that was one of them is wackadoo. I'm literally beside myself."
Filming has provided fun moments, like the time Smith and his co-star ate endless amounts of popcorn for a scene, or a party scene that required a dance marathon.
Smith's performing arts degree from Iowa State has given him the foundation to succeed in any creative genre.
"I'm discovering so much about myself, my process and realizing that film isn't as much of a foreign concept as one thinks it might be. There are similar techniques, from an acting perspective, that we use both in theatre and film."
He has also been assisting the main editor by learning editing and sound on the go, as well as selecting the music to shape the tone of the series.
"You have to rely on your training and where the story is going to be able to make informed decisions. That also allows me to combine both my love of music and theatre!"
While he continues to work on Outed, Smith is also exploring additional producing roles and is developing short films to submit to film festivals in the future. He advises future Iowa State students to pursue their passions with the same wholehearted approach.
"My advice, as corny as it may sound, is to never give up and to literally dive in," he said. "Try anything once. More than once. Don't be afraid to be honestly yourself. Your perspective is different and can offer something great to the craft. Outside of that, create, create, create. Create opportunities for yourself and your friends. Don't wait for them to come. Chase after them!"
Outed will be released this fall online.
Published: May 30, 2017