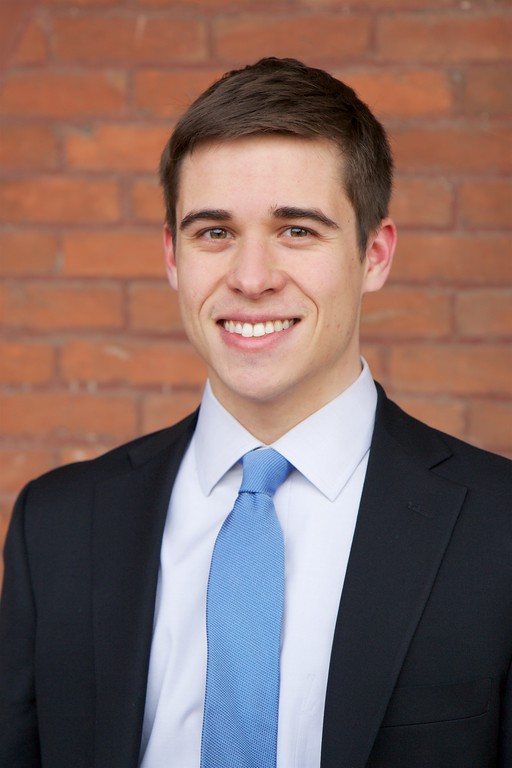 Congratulations, Sam Schulte! Schulte will represent the College of Liberal Arts and Sciences as student speaker at LAS Convocation on Friday, May 5, in Hilton Coliseum and as LAS student marshal during the University commencement ceremony on Saturday, May 6, in Jack Trice Stadium. This story on Schulte's achievements at Iowa State was originally published in January 2017.
Bringing together plants, health, and computers, Sam Schulte's experiences in the college of Liberal Arts and Sciences have focused diverse interests into a promising career path.
"Iowa State has been a place where you can always find something to do and something new to learn," Schulte said.
Schulte (biochemistry, '17) started as an agronomy major after spending the summer before college researching wheat in Mexico. But after falling in love with his biochemistry class, Schulte switched to the College of Liberal Arts and Sciences to major in biochemistry.
"I was fascinated by the structure of biological molecules," he said.
During the fall of his sophomore year, he began working in Reuben Peters' lab researching diterpenoids, a group of molecules largely produced by plants, which are useful in medicines and agriculture due to characteristics such as antimicrobial properties. While in Peters' lab, Schulte had the opportunity to work on some of his own research and has since been published twice in peer-reviewed journals as a coauthor. In 2016 Schulte was awarded a Goldwater Scholarship, the nation's premier undergraduate scholarship designed to foster and encourage outstanding students to pursue research careers in the fields of mathematics, natural sciences and engineering.
"Working in a lab gives you the ability to think critically and creatively," he said. "I think creativity is often undervalued in science, but it's very important to make breakthroughs or really cool new discoveries."
Schulte researched a particular enzyme (a protein that causes or accelerates a chemical reaction in a living system) that is involved in the beginning stages of forming a diterpenoid, changing it from a linear molecule to a cyclized molecule with rings of carbon atoms. This initial step determines which diterpenoid will be produced and what specific properties it will have.
"Reuben's lab I think is very interesting because it's at the intersection of plants and human health so it combined a lot of my interests," Schulte said.
Along the way, he had the opportunity to look into another area of interest.
"Because of the strength of research at Iowa State and the diversity of research here as well, I've been exposed to many new ideas," Schulte said. "I'm now getting a computer science minor as well. That is something I never thought I would get coming in."
He said he learned how necessary and valuable computer science skills will be for the future and decided to take a class. Finding it fascinating, he decided to add computer science as a minor.
After graduation Schulte plants to attend medical school for an M.D./Ph.D., where he hopes to bring together his interest in health and computers to do computational biomedical research. As patient data becomes more accessible, he said it will become increasingly important to understand how to analyze and use that data to make medical treatment decisions.
Schulte's diverse interests expand beyond the classroom. He has played the euphonium in the Iowa State Wind Ensemble, the top concert band at Iowa State, since he was a freshman. He plays in approximately five concerts each semester and had the opportunity to go on a two-week tour in Europe with the ensemble during the summer after his sophomore year.
He is also active in civic duty. After spending two years in Iowa State's student government as a senator where he was involved in the University affairs committee, he is now serving his second year as an ex-officio student member of Ames' city council.
"I've always been interested in civics and being involved in the community," Schulte said. "Ames is really unique in that it has a student member on its council."
Though he doesn't have a vote, Schulte said he is a city council member in every other respect, attending all but closed session meetings. He strives to represent student interests to the city, asking the current student government for issues they would like brought forward in city council meetings.
"I've learned a lot about how cities actually function," Schulte said.
Though not every issue he has brought up has gained traction, one idea he has seen forward momentum on is implementing security cameras in Campustown. The student government passed a resolution in support of them and Schulte will meet with the Ames chief of police to discuss both how the cameras could be used and how to put together an agenda for the city council to review.
Schulte said he values the diversity of both research and thought he has been exposed to during his time at Iowa State.
"It's a great place to learn," he said.
Published: May 1, 2017