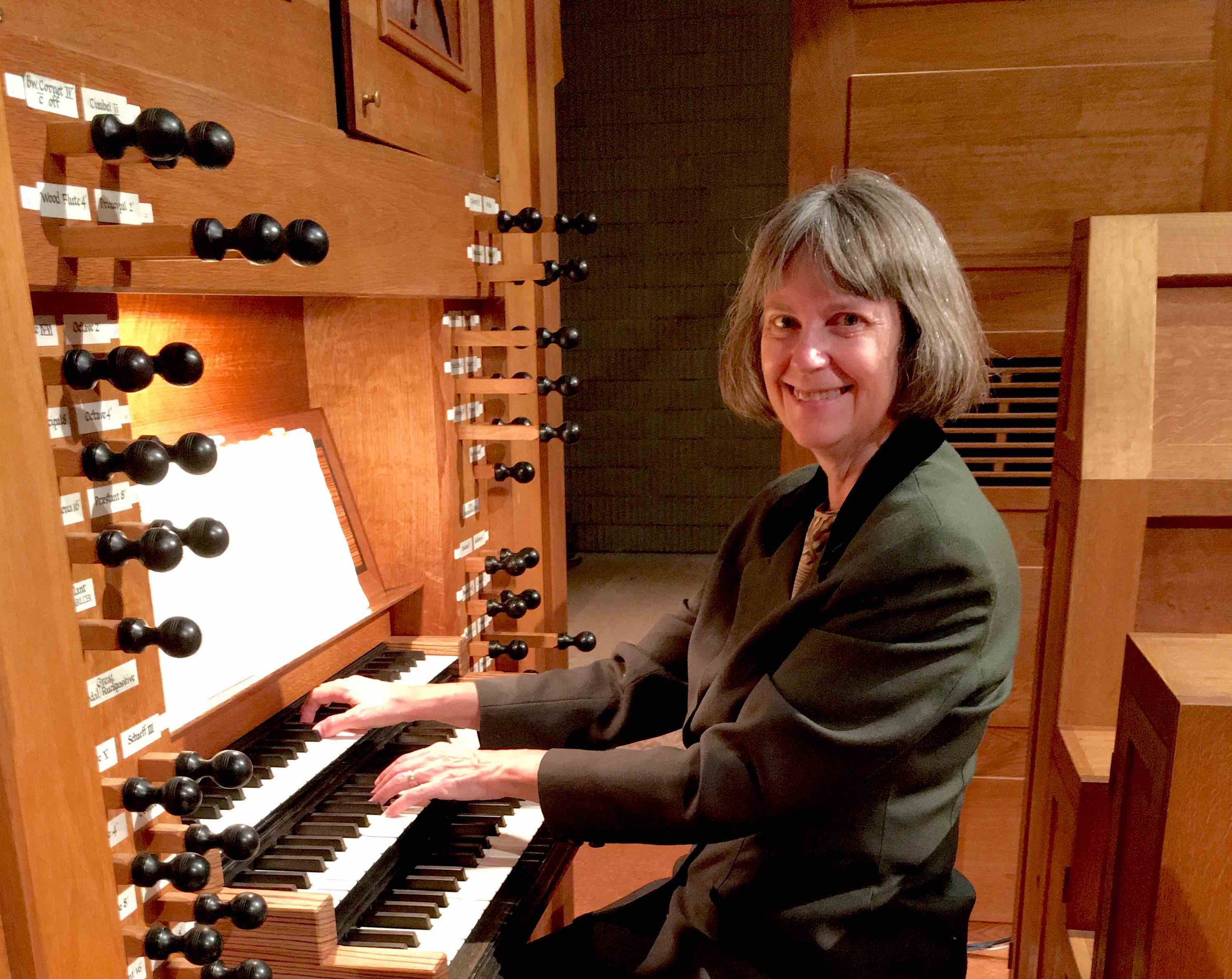 Miriam Zach, adjunct assistant professor of music and theatre, is the inaugural recipient of the Charles and Mary Sukup Endowed Artist in Organ at Iowa State University. Zach was honored at a medallion ceremony held Wednesday, April 5 at the Martha-Ellen Tye Recital Hall in Music Hall.
The award provides a named faculty position for a world-class organ musician and instructor in the College of Liberal Arts and Sciences. Charles Sukup ('76, '82 M.S. agricultural engineering) is president of Sukup Manufacturing Co., the world's largest family-owned grain handling and storage equipment manufacturer, and an ISU Foundation governor. He and his wife Mary ('75 home economics education) are longtime supporters of Iowa State through a variety of academic and athletic programs.
Zach, who has performed around the world, joined the ISU faculty last August. Along with promoting the study of organ and teaching Iowa State students, Zach will coordinate a monthly organ series and plan the annual Organists of Iowa Series at Iowa State.
"Our outstanding Department of Music and Theatre is home to exceptional faculty members who perform internationally and at the highest levels of their profession," Beate Schmittmann, dean of the College of Liberal Arts and Sciences, said. "We are deeply grateful to the Sukups for making it possible for us to welcome an organist of Miriam's caliber to our faculty. Their generous philanthropy will allow students from across the university to receive world-class instruction in organ music and will enrich all of us by creating vibrant cultural experiences in the arts at Iowa State."
Through the award, Charles Sukup is honoring some of his fondest student memories at Iowa State and a passion for music that continues today. As a student, he studied and played the carillon in the Campanile, played the clarinet in the marching band and discovered his love of organ music. While at Iowa State, his parents Eugene and Mary Sukup also contributed to the fundraising effort to purchase Iowa State's first pipe organ.
"I had the wonderful opportunity to study organ with exceptional teachers," Sukup said. "It is my hope that students who have the opportunity to study under Dr. Miriam Zach will, as I did, come away with not only improved performance skills, but also a beloved mentor and life-long connection to music, regardless of their professional path."
"As a new faculty member of the Department of Music and Theatre, I am honored and grateful to the Sukup family for their generous visionary legacy in establishing the named faculty position Charles and Mary Sukup Endowed Artist in Organ as well as their continued support of the Organists of Iowa series at Iowa State University," Zach said. "I'm humbled to be the inaugural recipient of this position, making it possible for me to creatively encourage the growth of future generations of organists, harpsichordists, music historians, teachers, researchers and composers."
Zach has a Ph.D. in philosophy and a master's degree in music from the University of Florida. She also received a master's degree in public policy and education from the University of Chicago. Her book, "For the Birds: Women Composers Music History Speller Volume 1," is in its second edition. Her performances include recordings for National Public Radio, the Princeton University Chapel and the Church of England for the British Army of the Rhine. She is the founder and creative director of the Margaret Zach International Women Composers Library.
Published: April 5, 2017