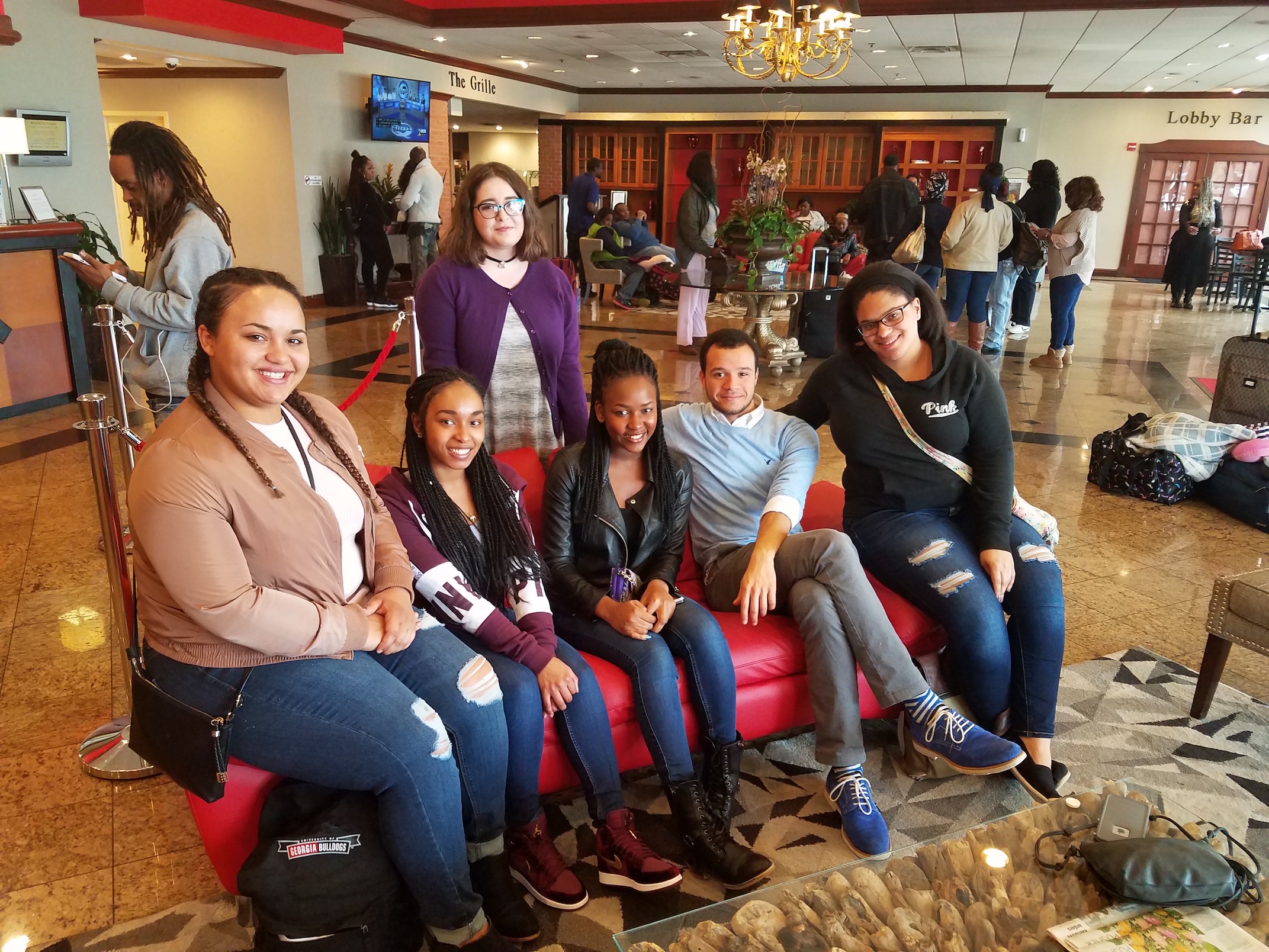 This February, six students from Iowa State's African and African American Studies Program attended the Southern Conference of African American Studies, held in downtown Atlanta. This year's conference reflected on President Barack Obama's early legacy and his impact as the first black president on American society and the black community.
For Madalyn Smith (community and regional planning, '18), it was an opportunity to further explore an area of study she discovered during her first semester at Iowa State.
Smith took Introduction to African American Studies in the Fall of 2014, during the aftermath of the fatal shooting of unarmed black teenager Michael Brown by a white police officer in Ferguson, Missouri.
"The class combined with the very real, heightened racial tension made me feel like understanding the history and story of African Americans in the United States was really important," Smith said. "African American history is American history and it is so often ignored and diminished but so vital to understanding the current social and political environment."  
Smith's favorite session at the Atlanta conference featured young Atlanta counselors, entrepreneurs and aspiring politicians. Networking with those leaders and with the scholars who presented has inspired her to potentially pursue African American Studies at the graduate level.
"I want to combine it with planning because the profession of planning has caused a lot of damage in the black community," she said. "I want to understand the connection on a deeper level and hopefully develop policies to rectify that damage."
Smith said she hopes more Iowa State students will take at least one African American Studies class during college.
African and African American Studies, a cross-disciplinary program in the College of Liberal Arts and Sciences, serves students from a diverse range of majors on campus, offering courses that explore the history and experiences of Africans, people of African descent across the globe, and African Americans through the study of history, art, literature, religion, political science, psychology, anthropology, economics and sociology. Students can minor in the discipline or design an interdisciplinary studies major with an emphasis in African and African American Studies.
Iowa State students received high praise at the conference for their participation and insight, Tunde Adeleke, professor and director of the African and African American Studies program, said.
"The Southern Conference of African American Studies is one of the leading professional associations in the field," Adeleke said. "It has a student-centered philosophy that strongly encourages students' participation. Our students' contributions drew applause and commendations from the distinguished professors in the audience. During the closing ceremony, Iowa State University students were asked to stand up to be recognized and applauded. I am truly very proud of them."
Scholar Eugene Barrington, emeritus professor from Texas Southern University, attended the conference and was among those who praised Iowa State students for their contributions.
"I was also impressed with the very talented students from Iowa State," he said. "They contributed added value to several sessions. Your students provided analyses and insight beyond their years."
Adeleke said at least two of the Iowa State students who attended have pledged to return next year and also participate in the conference's Hornsby Memorial Collegiate Quiz Bowl.  
Published: February 22, 2017