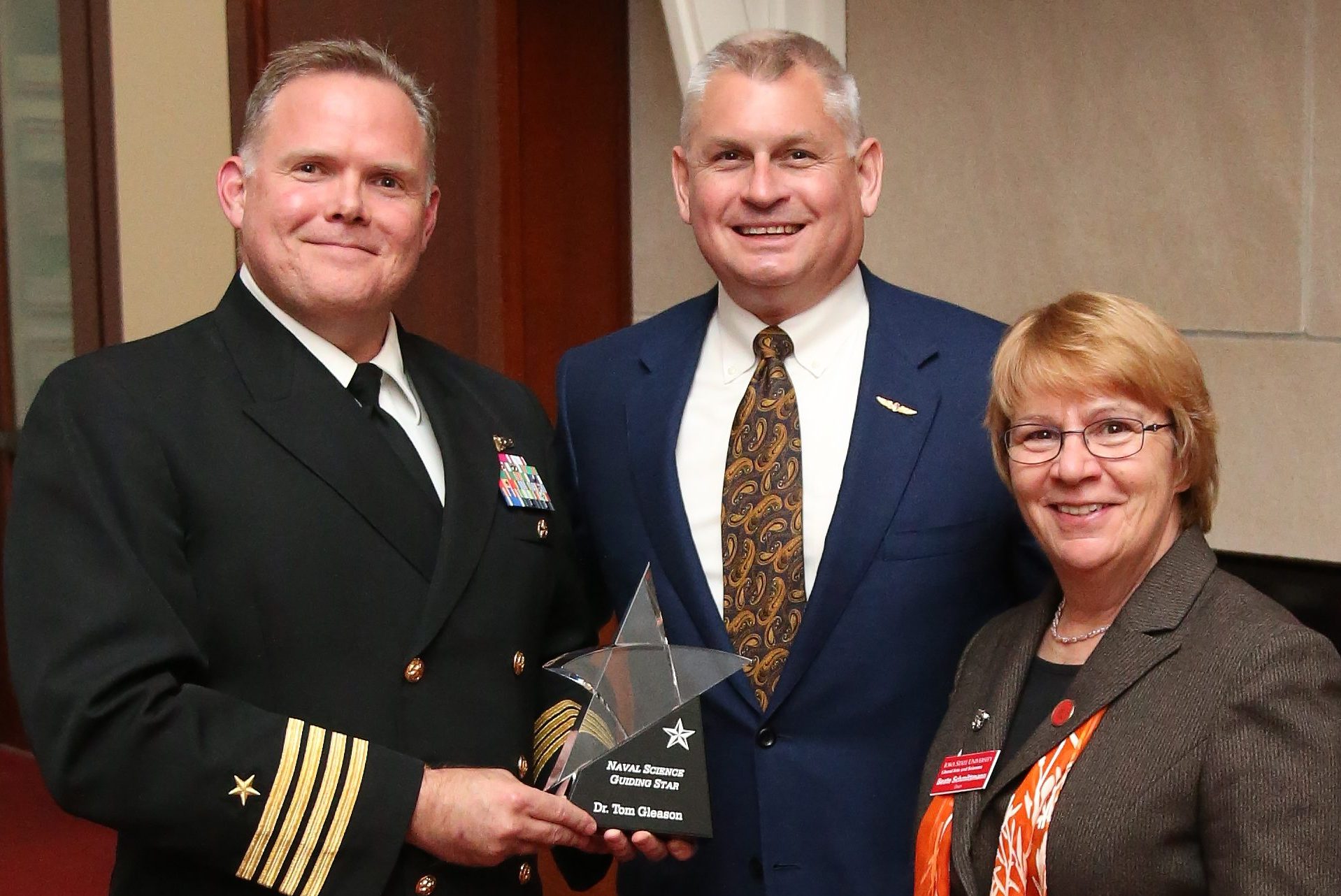 The College of Liberal Arts and Sciences celebrated alumni and friends at its annual Honors and Awards Ceremony on Thursday, October 27, at the ISU Alumni Center.
The ceremony took place during Iowa State University's 2016 Homecoming Week, which celebrated ISU pride with the theme "Leave Your LegaCY."
"Homecoming is always an exciting time for us," Beate Schmittmann, dean of the College of Liberal Arts and Sciences, said. "It is a wonderful opportunity to reconnect with our alumni and friends and recognize their outstanding achievements. With more than 60,000 living alumni, it is challenging for us to select award winners each year. This year's award winners represent some of our most distinguished alumni, and we are extremely proud to celebrate their diverse accomplishments."
Three groups of award winners were honored at the event:
Iowa State University Alumni Association honorees included:
Sarah F. Fischer (political science and English '02), James A. Hopson Alumni Volunteer Award
Brian May (English '93), Alumni Service Award
College of Liberal Arts and Sciences honorees included:
Elizabeth A. Baird (journalism and international studies '76), Carrie Chapman Catt Public Engagement Award
Rear Adm. Randall M. Hendrickson (political science and naval science '83), Citation of Merit
Dennis C. Wendell (distributed studies '67), Dean's Arts and Humanities Award
Thomas A. Connop (history '76), Distinguished Service Award
Tyler P. Stafford (advertising and speech communications '11), Young Alumnus Award
Departmental award recipients included:
Rajesh Girish Parekh, (MS computer science '93, PhD computer science '98), Distinguished Alumni Award in Computer Science, Department of Computer Science
Shazia Manus (economics '98), Public Engagement Award, Department of Economics
David E. Hamilton (geology '74, MS geology '79), Distinguished Alumni Award, Department of Geological and Atmospheric Sciences
Janice C. Kreamer (history '69), Outstanding Alumna Award, Department of History
Dean Borg (agricultural journalism '59), James W. Schwartz Award for Distinguished Service to Journalism and Mass Communication, Greenlee School of Journalism and Communication
Bob Antol (mathematics '78), Distinguished Alumni Award, Department of Mathematics
Dr. Thomas R. Gleason (zoology '78), Guiding Star Award, Department of Naval Science
Samantha L. Clark (political science '09), Alumni Achievement Award, Department of Political Science
Michael Guge (political science '93, MA political science '95), Alumni Achievement Award, Department of Political Science
Jeffrey H. Kahn (MS psychology '94, PhD psychology '97), Distinguished Alumni Award, Department of Psychology
Emily Johnson Batista (German '75), Distinguished Alumni Award, Department of World Languages and Cultures
Kristen Hawkes (sociology '68), Distinguished Alumni Award, Department of World Languages and Cultures
Published: October 31, 2016