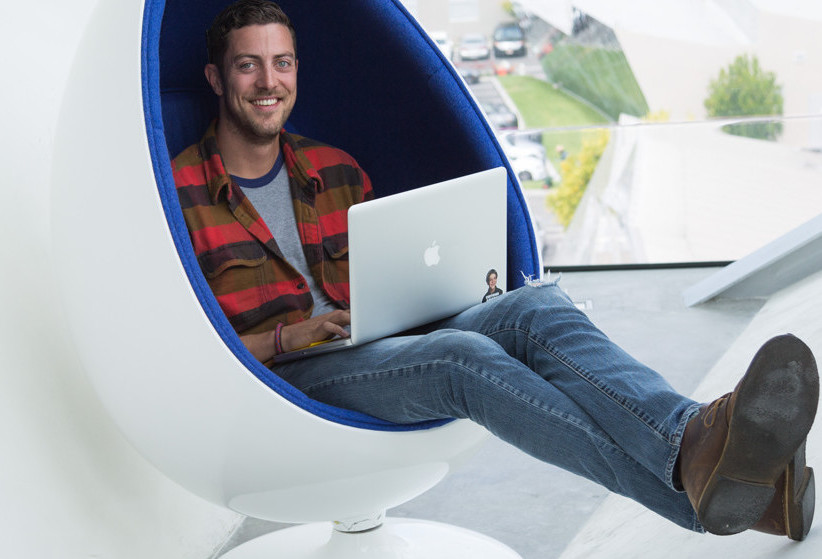 Some teenagers dream of winning an Academy Award. Others dream of having their face grace the cover of Sports Illustrated. But when Ty Stafford was a teenager, he dreamed of being named one of Forbes 30 Under 30. So what'd he do to help make that dream come true? He went to college at Iowa State, of course.
While attending Iowa State, Stafford ('11 advertising and speech communication) participated in a multitude of activities. He was in a fraternity. He was active in Dance Marathon. He interned at Jimmy Kimmel Live. He even helped start a mime program at Ames High. And he did it all while growing his own popular YouTube channel. After all, he knew the more he got involved at Iowa State and online, the sooner he'd be able to achieve his advertising career goals. Plus, it's like Stafford says, "If you're not active at Iowa State, it's because you're actively trying not to be. There's so much to do."
After he graduated, Stafford accepted a prestigious position as a digital distribution specialist at Red Bull® and brought their Red Bull channel to five million subscribers and more than one billion viewers. Then he went on to become content strategy manager at Los Angeles-based ad agency, Omelet. And then — at the ripe young age of 27 — it finally happened. Stafford's dream of being named one of Forbes 30 Under 30 came true. About achieving the honor, Stafford said, "I was shocked. Really, it was an honor just to have been nominated. And it literally could not have happened without Iowa State."
No matter your interests, with more than 800 clubs and organizations to choose from, Iowa State has the opportunities that will help you achieve your future goals. And as a bonus, our campus is consistently being voted one of the most beautiful in the country, and nothing's more exciting than our Big 12 sports. Said Stafford, "Some universities just have awesome sports. Some just have beautiful campuses. But Iowa State has the best of everything. They've figured out the magic formula."
Thanks for the compliments, Ty. We happen to think you're pretty great, too.
Ty's story and photo originally appeared on Iowa State University's homepage.
Published: July 6, 2016