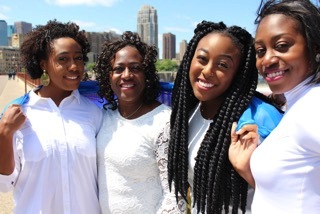 Jessica Enwesi wants to use her voice to tell someone's story.
Enwesi (political science, '18) an African American woman, is passionate about human rights and wants to help those who need representation.
Enwesi gained her passion for human rights while interning for the Minneapolis Civil Rights Department. Her eyes were opened to the inequality that some citizens faced, and watching her boss care about every situation motivated Enwesi to push for a change.
"You have the right to be yourself," Enwesi said. "No one should be able to force upon you something you aren't. Human rights are something that cannot be compromised."
When Enwesi was in high school, she discovered the Step-Up Program, an employment program in Minneapolis that provides youth between the ages of 14 and 21 with paid summer internships. Through the program, she was inspired to major in journalism and political science in college so she could speak for those who were unable to speak for themselves.
The Step-up Program chooses students that are go-getters and provides classes and training sessions for students to thrive in a professional setting. There are sessions on how to dress and communicate during internships and at a mock interview, which Enwesi said was great preparation. Through this program, Enwesi's passion for human rights grew because she saw inequality up close.
When Enwesi enrolled at Iowa State, she had already completed internships at the Minneapolis Civil Rights Department and the Minneapolis Telecommunications Network, which gave her valuable experience learning how to collaborate and take on a leadership role on a team. During her sophomore year she added a third major, International Studies, to her list of degrees.
Even with three majors, Enwesi found time to be involved in student organizations such as the Iowa State Daily, Ethos Magazine, Freshman Council, and LAS Ambassadors. She said managing her time was something she had to learn early. "Your planner is your life," Enwesi said.
Enwesi is thankful for the many opportunities that Iowa State offers for students.
"Iowa State really gives you a chance to showcase what you know, which is so important to development and has helped prepare me to do what I want with my career," Enwesi said.
Her adviser, Jessica Hansen, helped her stay on track, too.
"I can always count on Jessica to come through," Enwesi said. "She always finds a way to help me out if I need a recommendation or a credit limit increase." She said without an adviser who was on top of forms and deadlines, she may have missed opportunities.
Enwesi isn't just busy during the school year. This summer, she will be interning with United Health Group, an offer she recently accepted through the INROADS internship program, which places talented and under-served youth in business and industry to prepare them for corporate and community leadership.
When she graduates spring of 2018, Enwesi is considering either pursuing a graduate degree or going on to law school to become a human rights attorney.
Published: June 8, 2016