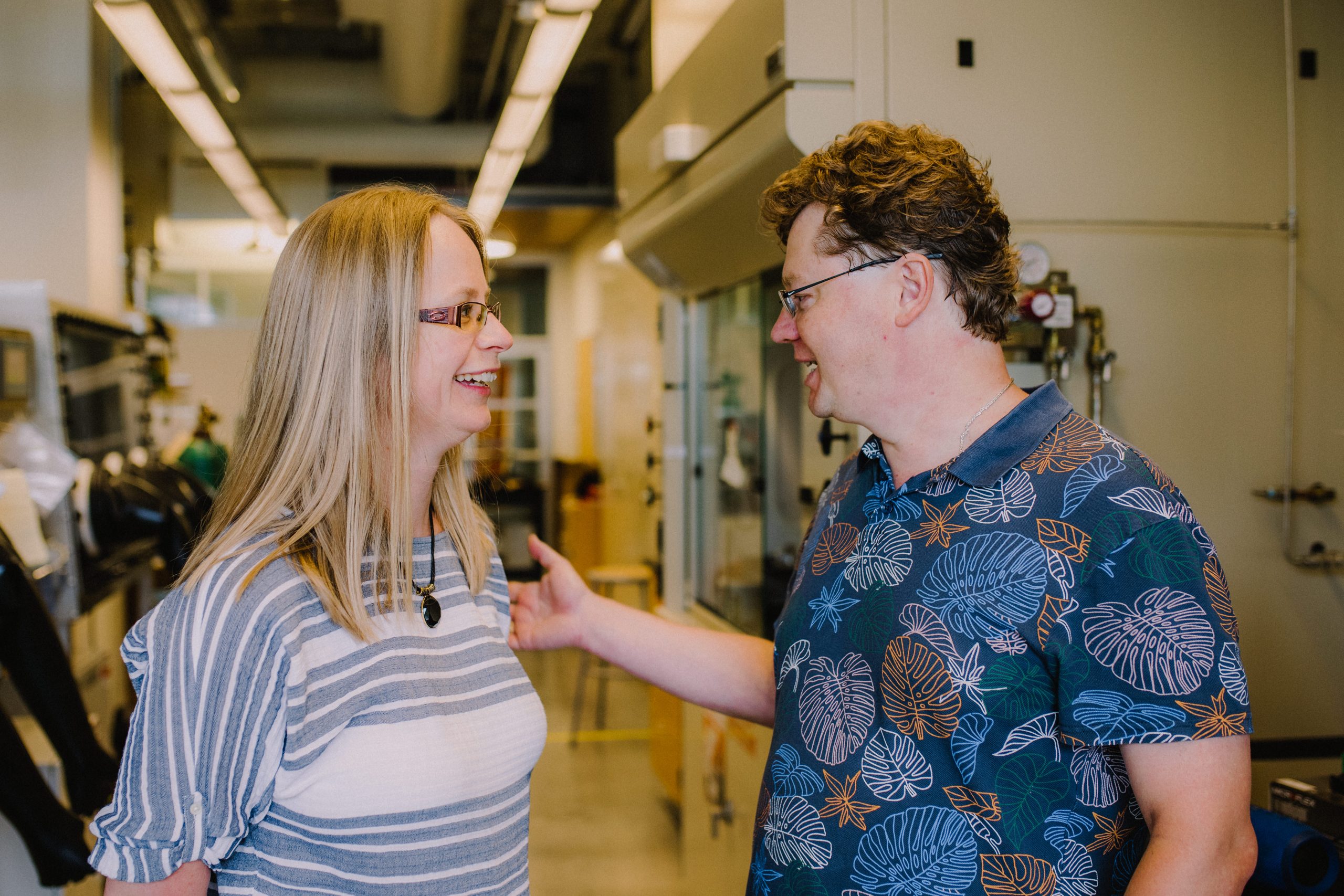 A husband and wife research team in the Department of Chemistry has been awarded the first grant from the Frontier Science Fund in the College of Liberal Arts and Sciences for their promising materials science research. Professor Kirill Kovnir and Assistant Professor Julia Zaikina will use the funds to discover novel thermoelectric materials.
The Frontier Science Fund was established in 2021 by Tom ('68 geology, MS '71) and Evonne Smith ('68 textiles and clothing). The fund was created to advance highly fundamental research in the College of Liberal Arts and Sciences. The goal is to support high-risk, high-reward research that inspires innovation and advances new ways of thinking about our world.
"We're developing compounds that the world has never seen before," Zaikina said. "The Frontier Science Fund allows us to engage in rigorous experimentation that we hope will lead to the discovery of new thermoelectric materials."
Thermoelectric materials have unique properties and extraordinary capabilities. They're able to convert heat – that would otherwise be wasted – and transform it into useful electricity.
"This research is important because thermoelectric materials could be incorporated into a wide range of products, from jet engines and car engines, to computer chips," Kovnir said. "The widespread adoption of thermoelectrics could reduce society's dependence on fossil fuels and contribute to solving the problem of wasted heat."
The opportunity of wasted heat
Wasted heat is a longstanding global concern. Touch the hood of a running car and you can feel it. Peer through a jet window and you can spot waves of heated air radiating from the engine. Even your refrigerator and cell phone produce heat that dissipates into thin air.
Researchers like Kovnir and Zaikina view this lost heat as a squandered opportunity.
"More than two thirds of all energy generated in the United States is lost, and the biggest source of this energy loss is wasted heat," Kovnir said. "That is an enormous amount of wasted energy; and if thermoelectric devices could convert even a fraction of the wasted heat into useful energy, the implications for energy conservation would be transformative."
Leaving … on a more fuel-efficient jet plane
Jet engines release carbon into the atmosphere and contribute to climate change. Kovnir and Zaikina envision a day when commercial jets will be outfitted with thermoelectric devices that increase fuel efficiency and leave a smaller carbon footprint.
"A jet engine that once ran exclusively on jet fuel, could now be partially powered by clean, more efficient electricity," Kovnir said.
Their research is focused on developing thermoelectrics that can withstand high temperatures, such as the jet engines which operate at 2,000-3,000 degrees Fahrenheit. Findings from this work could also be applied to automobiles, nuclear power plants and space missions, which also involve extreme heat.
But creating thermoelectric materials that tolerate high temperatures isn't easy. This research requires creativity, rigorous experimentation with a vast range of components and plenty of trial and error in a lab setting.
A tale of two labs
Zaikina and Kovnir each have their own labs. Both labs play unique and critical roles in discovering high-temperature thermoelectrics.
"We call it synergism," Zaikina said. "In my lab, we synthesize alloys, then we densify them into compact pellets with a spark plasma sintering machine; and in Kirill's lab we have instruments that allow us to measure and test the high-temperature properties of those pellets for thermoelectric energy conversion."
The delicate chemistry needed to create thermoelectrics is intricate work. Materials achieve useful thermoelectric properties only after the right recipe for their synthesis is developed and metal ratios in the alloy composition are suitable.
"We are often tweaking atoms in these materials," Zaikina said. "After we see where the atoms are, we measure the thermoelectric properties; then we adjust the thermoelectric efficiency of the compound by judiciously replacing atoms – and we repeat the process again and again."
Formulas for success
Although the experimentation occurs in labs with sophisticated equipment, the process begins on the computer screen with theoretical modeling. Zaikina and Kovnir rely on quantum chemical computations from materials scientists to decide which combinations of metals will most likely convert wasted heat into electricity.
"We're not randomly trying out different combinations of metals," Kovnir said. "Computational scientists help us predict which compositions would likely work best for a particular application and which materials are optimal for testing."
Kovnir and Zaikina forged a partnership with Duane Johnson, Distinguished Professor in the Department of Materials Science and Engineering. Johnson provides the theoretical calculations that inform their research.
"Again, I'm using the word 'synergy', and this time the synergy is between the computational people, the chemists and materials scientists," Zaikina said. "After we conduct our experiments, we return the results to Duane and he adjusts his predictions about which material compositions we should try next."
Each round of information exchange improves the materials and inches the team closer to developing thermoelectrics with desired properties.
Shooting for the stars
Zaikina and Kovnir are looking to the future as their research progresses. They plan to send promising thermoelectric, high-entropy alloys to NASA's Jet Propulsion Laboratory for further study.
They hope to secure larger grants from federal agencies and develop a larger research program that is devoted to the discovery of novel high-temperature, thermoelectric materials.
"Working with metal alloys at high temperatures to discover thermoelectric materials is an unexplored area, because the risk of failure is so great," Kovnir said. "This could be the beginning of something amazing, and we're honored that the Frontier Science Fund supports this research and is allowing us to see where it takes us," he said
Published: September 28, 2022