Five students in the College of Liberal Arts and Sciences were awarded the Wallace E. Barron All-University Senior Award by the Iowa State University Alumni Association.
Brooke Almasi ('18 public relations), Emily Barske ('18 journalism and mass communication, marketing), Malik Burton ('18 speech communication), Chris Celona ('18 sociology, criminal justice), and Daniel Jacobi ('18 finance, economics and political science) were honored for displaying high character, outstanding achievement in academics as well as university and community activities and promise for continuing these exemplary qualities as alumni. Two of these students were also in the College of Business. The ISU Alumni Association also named two students from the Colleges of Engineering and Agricultural and Life Sciences.
The award is named for Wallace E. "Red" Barron (Class of '28) who served as director of alumni affairs at Iowa State from 1937 to 1968.
Brooke Almasi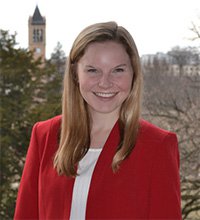 Almasi plans to attend law school after graduation. She is passionate about valuing diversity, giving back and advocating for those whose voices aren't heard. She interned with the Carrie Chapman Catt Center for Women and Politics and the African American Museum of Iowa. She works on campus as a campus visits associate and has previously worked as a copy editor for the "Iowa State Daily." She has volunteered with Students Helping Our Peers (S.H.O.P.), CyServe, Dance Marathon, St. Jude Up 'til Dawn, Feeding Lunch to Youth (FLY), Meals for the Heartland, Ronald McDonald House and Raising Readers in Story County.

She has served as a leader currently as president of Sorority and Fraternity Community Ambassadors, previously as executive vice president of Alpha Delta Pi Sorority and as president of Student Admissions Representatives (STARS). She is also involved in the Cardinal Key, Mortar Board and Order of Omega honor societies; Advocates for the Alzheimer's Association; Iowa State University Honors; International Students and Scholars' Cultural Ambassadors; Pre-Law Club and the Rho Lambda National Sorority Leadership Recognition Society.

Emily Barske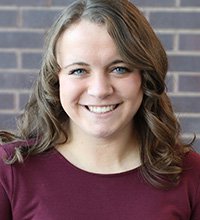 Barske became editor-in-chief of the "Iowa State Daily" as a junior, becoming one of only a few editors to serve a second year in the position. Under her leadership the Daily launched "Voices," a website designed to create conversations about diversity and inclusion within the campus community. Due to her leadership of the newspaper and feature-writing skill she has received national awards from the Society of Professional Journalists, the Iowa College Media Association, the Poynter College Media Project and the Columbia Journalism School.

Barske has also interned with the "Cedar Rapids Gazette," Renewable Energy Group and radio station KIX 101.1. She is involved in Iowa State University Honors, Cardinal Key, the Ames-ISU YWCA student board, ISU's First Amendment Days planning committee, the Greenlee School student advisory board and ISU's journalism learning community. She is a founding member of ISU's Association for Women in Communication and previous vice president of ISU's Society of Professional Journalists chapter.

Malik Burton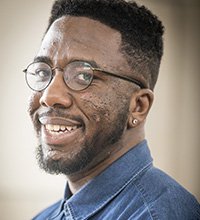 Burton plans to attend graduate school and pursue a career in student affairs. He has made campus a safer and more welcoming place for students of color through serving as president of Iowa State's Black Student Alliance. He helped the organization grow from 30 to more than 100 members and to receive the 2017 Big XII Conference on Black Student Government's "Most Improved Council" award. The challenges Burton faced while serving with the Black Student Alliance have shaped him into a stronger and more focused leader.

He has served as co-chair of the Big XII Council on Black Government's political action committee, where he worked to educate students on their rights and register them to vote. He also was a member of the ISU Committee on Lectures and a Department of Residence community advisor. He served as an Ames Middle School and High School CONNECT mentor. He is a George Washington Carver Scholar, a National Conference on Race and Ethnicity (NCORE) Scholar, vice president of Alpha Phi Omega Fraternity, Inc., a BOLD peer mentor and a past member of Iowa State's Multicultural Student Leadership Council and George Washington Carver Advisory Board.

Chris Celona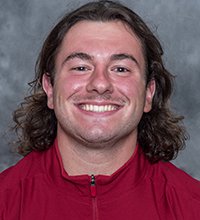 Celona excels in academics, athletics and service. He is a championship-caliber hammer and weight thrower, has a 3.84 grade-point average and has given more than 100 hours to community leadership. He serves as co-president of ISU's Student-Athlete Advisory Committee, through which he has organized charitable initiatives such as the CyCans food drive and the Soles4Souls shoe drive. He has facilitated student-athlete participation in the Special Olympics and a holiday "adopt-a-family" program. In 2017 he went on an athletics-sponsored mission trip to Haiti where he saw the impact of his work with Soles4Souls.

Celona also is a representative to the Big 12 Conference Student-Athlete Advisory Committee, a member of the social media subcommittee and a panelist representing the league at the 2017 NCAA Leadership Forum. He has received the Cyclone Scholar-Athlete award, the Big 12 Commissioner's Honor Roll and first-team academic all-Big 12 awards. He is also a member of the Chi Alpha Sigma National College Athlete Honor Society.

Daniel Jacobi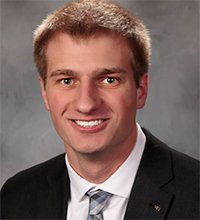 Jacobi has been a leader since beginning at Iowa State as a freshman and serving as recruitment chair for Beta Sigma Psi Fraternity. The following year he became one of the youngest presidents in the fraternity's history. Under his leadership, Beta Sigma Psi chapter has earned the Iowa State Greek Community's President's Award for Fraternal Excellence, the ISU Student Activities Center's Outstanding Commitment to Service Award and Beta Sigma Psi National Fraternity's Edwards Award for Best Chapter Management.

Besides his leadership in the Greek community, he has also volunteered with a number of Ames community organizations including Habitat for Humanity, Memorial Lutheran Church and Relay for Life. He has been active with Student Government's ISU Legislative Ambassadors and ISU Business Council. He is a member of Phi Beta Kappa Honor Society and was a 2016 ISU Homecoming Cardinal Court honoree. He has worked with the ISU athletic department since 2015 as an event management and game operations intern. He has also held student positions with Caterpillar Inc.'s study abroad program and Lyndhurst Capital.

Published: March 7, 2018