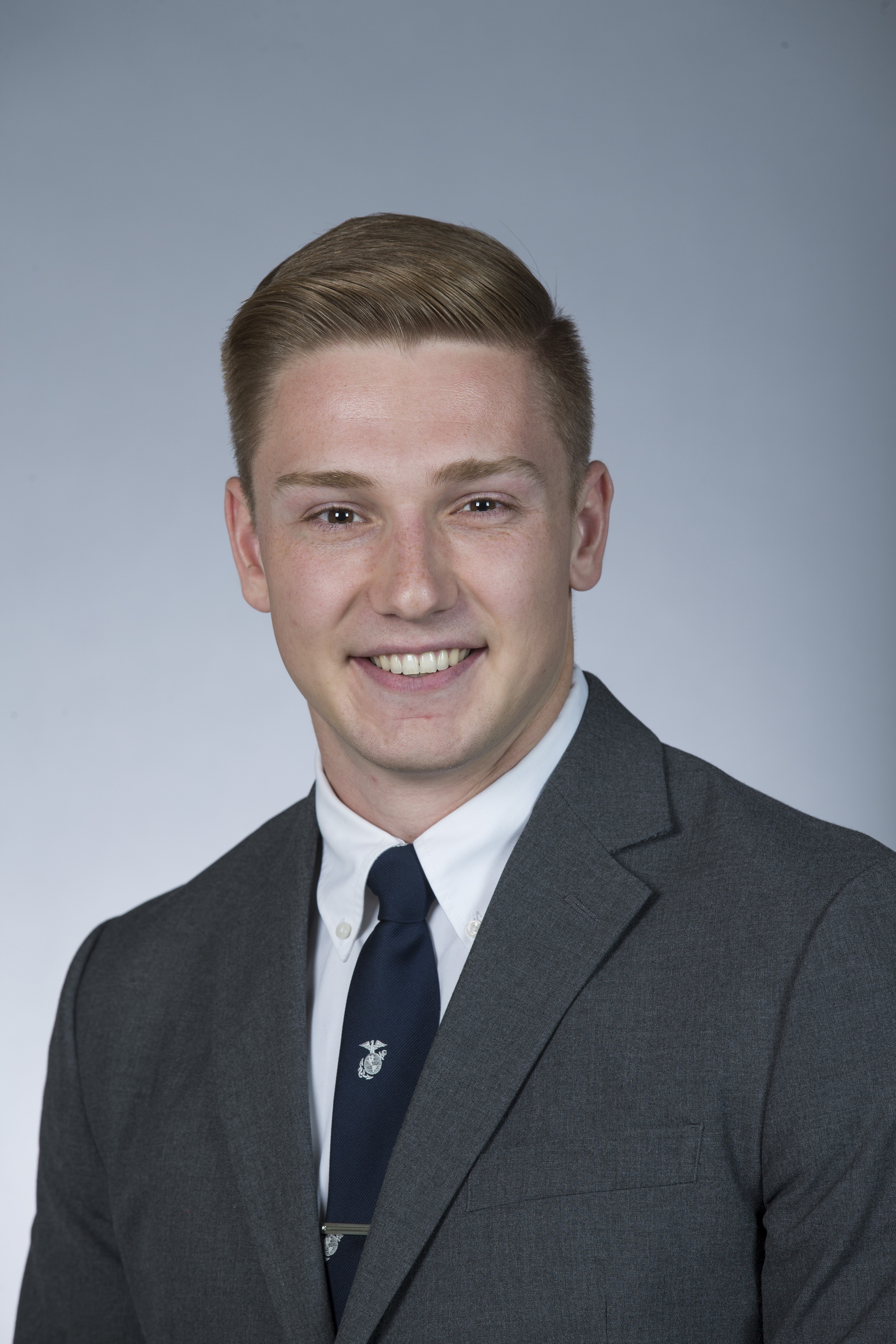 An endurance competition may not qualify as fun for most people. Graduating senior Connor Schueler ('18 history and political science) who has traveled the country competing in such challenges with his fellow Navy ROTC midshipmen calls it "Type 2" fun.
"It's fun after the fact, not fun while you're doing it," he said. "It's a good experience to figure out who you are and what you're capable of and how you react in stressful and difficult situations."
Schueler, who will be the student speaker at Friday's LAS Convocation Ceremony and the LAS student marshal at Saturday's University Commencement, will keep learning what he is capable of this summer. That's when he goes to San Diego State University to study Arabic with Project Global Officer, an initiative of the Defense Language and National Security Education Office. The program provides funding to learn a foreign language critical to U.S. national interests.
Then he'll begin an accelerated graduate studies program at the Interdisciplinary Center Herzilya in Israel. Schueler was awarded a highly competitive Anna Sobol Levy Foundation Fellowship for people going into military or government service. His studies will focus on diplomacy, conflict and Middle Eastern studies, and he'll also learn from Israel Defense Forces and Israeli intelligence.
"It's extremely important for military officers acting globally to understand what's going on in the world and have an understanding of current events in history," Schueler said. "That's absolutely essential to being informed in the world."
Challenged at Iowa State
LAS helped Schueler reach his goals with both the Navy ROTC program (Marine option) and two global-minded majors. Faculty members like Chris Low, assistant professor of history, and Richard Manbasch, professor of political science, helped him shape a global worldview and gave him a better understanding of international relations, he said.
"They're both professors that have had a significant impact on me here through the classes they teach and the opportunities I've had through their classes," he said.
In the Navy ROTC program, Schueler learned to challenge himself as a leader, mentally and physically.
Schueler served as ISU's Navy ROTC Battalion Commander, a leadership position assigned to the best individual in the program. This April he also received the 2018 Governor's Cup from Gov. Kim Reynolds, an award given to Iowa's finest future military officers, and he is Iowa State's 2018 Marine Corps Honor Graduate.
"[Navy ROTC] has shaped me a lot for who I am and has made me a better person and improved the way I think and do a lot of things."
Iowa State helped him find his academic path, but Schueler's passion for service is a family legacy. Schueler has always known military service was a career option. His parents are both veterans – his dad was in the Marine Corps, his mom served in the Navy. Most importantly though, he grew up knowing service to others could be a way of life.
"I think they instilled in me the values that would lead someone to want to serve their country in any capacity, and I think you can do that in a lot of ways."
Following graduate studies, Schueler will commission as a second lieutenant in the United States Marine Corps.
Published: May 4, 2018